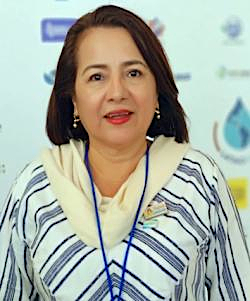 As a professional in the sector, what I enjoy the most is seeing the amaze of people when the water reaches the water supply tank or when the water reaches their home. It is something they never imagined and, seeing children and girls jumping of joy, playing with water, just makes me feel that shared joy because you also feel that your purpose is being fulfilled.
As a woman in the water sector and being in a position of responsibility, it is not about pretending to become a superhero of water. In fact, it is a way in which we can help more women to be motivated to grow in a career focused on water, assuming positions of responsibility, or women take charge of the management of its own community water system. If we achieve the latter, the visibility of women in the water sector will have contributed in achieving one of the greatest challenges that separate us from equality.
The challenge is women focusing both on improving their abilities and skills to positively impact their own living conditions as well as other families' lives. Changes in behaviours, beliefs and values are key in guaranteeing water security as a source of its own water and sanitation system, because all people are responsible for taking care of our water and ensuring the responsible use of it.