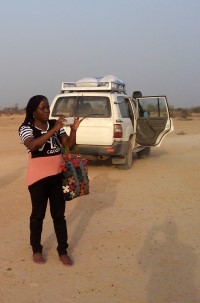 The passion for development work pushed me after my studies in high school, to choose and become a water and rural equipment engineer. Back then it was necessary to fight in a profession whose conditions are not necessarily favorable for the nature of a girl, a woman, a wife, a breastfeeding mother, a mother… For example, sometimes I had to go to the field while pregnant or on professional travel with a baby. But I found the journey very exciting because it gave me the capacity for organisation and adaptation to the professional conditions as a woman.
To empower women and girls in the years to come, I think that work must start at the base by educating 100 % of girls. Ignorance and the lack of education are barriers to empowerment.
Also, in the African context, certain circles tend to prioritize the education of boys even though it has been shown that women have more capacity for self-employment. This is demonstrated by the very large percentage of economically independent women in the private sector. We should also continue to advocate with states and technical and financial partners for actions to encourage female leadership.
Photo: Félicité Vodounhessi doing field work in Mali.