More than 470 participants, from 73 countries, joined the two-day online event, which was opened by GWP Chair, Howard Bamsey, who highlighted how the Network continues to evolve and adapt to new landscapes.
"We have to change the way we work and that's why we are emphasising (in this meeting), the key role of innovation in responding effectively to external change. Today you're going to see one of the products of innovation within GWP…our new ToolBox," he said.
He also flagged the potential for innovation in terms of "reviewing and renewing" GWP's governance, noting that the Steering Committee is working on ways to bring the Network and organisation closer together more "organically".
Mr Bamsey told attendees that one of the organisation's short-term goals is to try to secure a stakeholder consultation role ahead of the UN Water Conference in 2023. He said world leaders and business representatives will be making many decisions leading up to, and during, the event – and GWP wants to ensure all stakeholders are part of that process.
"We have done this successfully in the past and we feel we are in a unique position to complete this task."
Progressing towards our targets
Attendees then heard from Executive Secretary, Dario Soto-Abril, who celebrated the Network's achievements over the past 25 years, particularly the last 12 months.
"2021 is the second year of our 6-year strategy, much of which has been dominated by the COVID crisis. The implications of the global pandemic have varied across the GWP Network, both in terms of impact…but also in terms of the way we operate," he said.
Despite these challenges, GWP has influenced more than 50 high-level water governance results in relation to the adoption of policies, plans, laws, and regional cooperation.
"We also produced a report on gender mainstreaming in water resources management which provides facts and tools to help policy makers. The report received significant media coverage," he said.
He concluded by highlighting GWP's successes with the Green Climate Fund endorsing GWP-supported funding applications worth over $US 2 million in 2021, and the launch of GWP's Matchmaking Initiative that connects country-defined priorities for water management improvements with local donors.
Accelerating innovations: GWP ToolBox – IWRM Action Hub
One of the highlights of GWP's 25th anniversary year came with the 'family' launch of the revitalised GWP ToolBox – IWRM Action Hub – a combined product of the efforts, ideas, and input from the whole GWP network.
Participants were given a virtual tour of the new GWP ToolBox, which will shortly feature 87 tools, 222 case studies and 1,500 resources. It also includes a new Connect area, where people can become members and connect with each other. It will allow users to form their own online communities of practice – finding answers to questions, gaining support from those with experience in implementation, and sharing lessons learned from projects.
During the guided tour, participants were shown how to use the new Curator feature, which gives users the ability to select an 'action', such as 'Create policies' or 'include gender in water management', in order to receive a tailored list of relevant tools, resources, and case studies related to the specific action chosen. Another new feature is the IWRM Survey, an assessment instrument based on the SDG 6.5.1 questionnaire. Users will be able to identify the main water governance challenges in their country of choice and get tailored tools based on the identified problems.
Leading change and innovation through Partners
During the two-day event participants had the opportunity to join one of five breakout group sessions on different topics. After hearing various presentations and taking part in discussions, the breakout session participants were asked to come up with key recommendations for GWP.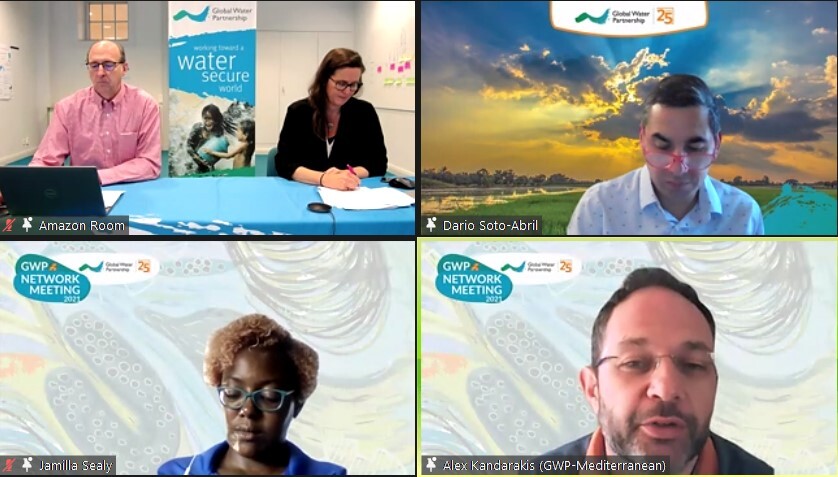 From Source to Sea: Healthy rivers, healthy oceans – This session involved discussions on GWP's shift into working in the area of oceans and why it is an important new focus for the Network.
Recommendations: GWP should acknowledge the responsibilities of the freshwater community regarding sustainable development not only at the level of watersheds but also about oceans and seas. GWP should lead action to bridge the gap between freshwater and marine communities.
Daring to lead: Youth and women in water – This session looked at defining priority areas for youth participation and gender mainstreaming.
Recommendations: GWP should create meaningful opportunities for youth and women engagement and capacity building, employability, entrepreneurship, and innovation. GWP should support female leadership externally and internally, identify gender-focused networks and organisations, and map linkages and partnerships.
Investing for change: Water and climate financing – This session looked at GWP's role in facilitating access to climate finance and what support is needed from Partners in various regions.
Recommendations: Make sure that GWP's support to countries to access climate finance is aligned with national processes and systems. There is a need to further strengthen sharing of experiences to help countries access climate finance and to capture lessons from climate finance projects.
Innovating with the private sector – Participants discussed their perspectives on the private sector's role in water management.
Recommendations: GWP should deepen the dialogue and joint action with private sector partners as well as existing networks like the 2030 Water Resources Group, CEO Water Mandate, and the Alliance for Water Stewardship. More investment in engagement is required at the global level with private sector platforms and networks, to make a business case that makes water visible and heard by business leaders, beyond the food and beverage sector.
Effective communication for advocacy – This session involved a discussion on the importance of communication in bringing about positive change in the water sector.
Recommendations: Increase resources for communication to allow diverse communication activities that ensure we reach all social groups and also people without internet access. If we do not invest in resources, we will lose opportunities for advocacy and change.
Breakout group participants were also asked to come up with questions for the GWP Chair and Executive Secretary, which were addressed in the next session "An interactive dialogue" – allowing for immediate responses to some of the challenges and concerns that were raised.
Bringing the 2021 Network Meeting to a close
Participants received a special gift during the event – the GWP Storybook – which includes 27 inspiring stories of water leadership throughout GWP's regions. The book is part of GWP's dedicated 25th anniversary website, which includes a timeline covering GWP's history, as well as a gratitude wall.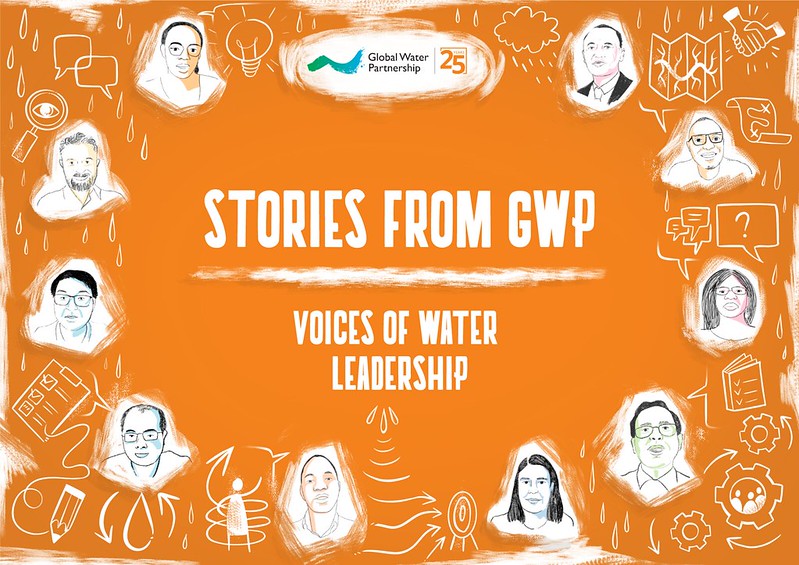 The event concluded with Mr Soto-Abril expressing his gratitude for the active participation of Partners. He encouraged them not to wait until the next annual meeting to ask questions and share experiences.
"Remind us! We are here for you. We are here to support you, to elevate the work you are doing, and we want to hear more from you throughout the year," he said.