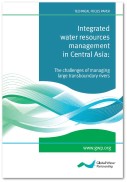 The countries which make up Central Asia – Kazakhstan, Kyrgyzstan, Tajikistan, Turkmenistan, and Uzbekistan – are all interconnected by shared water resources, mainly from the Amudarya and Syrdarya Rivers.
Irrigation is vital for agricultural production and most of the population of Tajikistan, Turkmenistan, and Uzbekistan depend directly or indirectly on irrigated agriculture. Water is also important for energy production – hydropower energy satisfies more than 90 percent of the total electricity needs in Kyrgyzstan and Tajikistan, and is also an export commodity. The competing demands of agriculture in downstream countries and hydropower generation in upstream countries fuel serious political disputes in the region, putting water at the heart of regional security and stability.
"There is a long history of irrigation in the region, the influence of the Soviet Union, and some 15 years' post-independence experience of introducing IWRM in the Fergana Valley. This paper describes building new infrastructure and, equally important, reforming institutional structures from the 'top-down' and from the 'bottom-up'. It also addresses the successes and the immense challenges still facing the region, particularly the transboundary water issues where nation States have differing views and priorities for water use," says Dr. Mohamed Ait Kadi, Chair of GWP's Technical Committee.
The paper is the second in a series of technical focus papers focusing on IWRM progress in different GWP regions. The full paper is now available as a pdf-document online, and will soon also be available in print– it can then be ordered through the GWP online form, free of charge. The official launch of the paper will take place at the Consulting Partners meeting in June in Trinidad.