A call for a dedicated Sustainable Development Goal for water was the main outcome of the Summit, organised by the Government of Hungary on 8-11 October 2013, bringing together 1,200 participants from around the world. Inaugurated by UN Secretary General Ban Ki-moon together with the President of Hungary and the Prince of Jordan El Hassan bin Talal among others, the conference was a big success for the water community and the hosting country, Hungary. The Budapest Summit welcomed more than 40 ministers from all over the world.
The support for a dedicated water goal was clearly stated by the UN Secretary General Ban Ki-Moon who said that the UN Advisory Board on Water and Sanitation is advocating for a dedicated water goal because "water holds the key to sustainable development." Underlining that "we must make sure that water remains a catalyst for cooperation not conflict among communities and countries," Mr Ban Ki-Moon talked about cooperation in three areas critical to sustainable development: food security, climate change, and sanitation.
Active GWP Delegates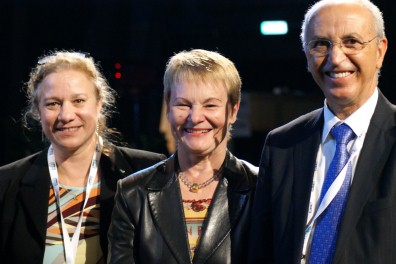 A GWP delegation participated in the programme which included high-level sessions, forums on youth, business, science, civil society and an exhibition.
GWP Chair Dr Ursula Schaefer-Preuss participated in the High-Level Panel discussion "How to govern water wisely with SMART SDGs" stressing that "the water crisis is mainly a governance crisis". As the border between rural and urban land is diminishing with the growth of the world's population, Dr Schaefer-Preuss underlined the importance of ensuring that water fits its purpose, to be able to supply more people with less, one of the biggest challenges of the future. "Therefore water has to be managed across sectors and institutions", she said.
GWP Technical Committee Chair Dr Mohamed Ait-Kadi participated in the "High-Level Water - Energy - Food Nexus Evening Panel", declaring that "IWRM and the water-energy-food nexus are two approaches reinforcing each other". The nexus invites us to reconsider the development paradigm and requires strong analytical capacities. IWRM is a process which is conducive to trade-offs, linking water resources management with green growth so that necessary change can happen. Stressing the importance of development and capacity building of institutions and people "a SDG on water is important because it holds governments accountable to their people on how they manage their water resources", Dr Ait-Kadi said.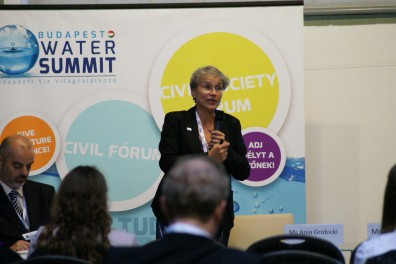 GWP Executive Secretary Dr Ania Grobicki participated in the Civil Society Forum, moderated by GWP Central and Eastern Europe Chair Martina Zupan, and the Science Forum on "Financing Water and Sanitation SDGs" giving an overview of the process of the SDGs negotiations saying that "we hope that this conference will be a step towards achieving a dedicated sustainable development goal on water".
Dr Grobicki also underlined the importance of financing to ensure investments into soft water resources management such as multi-stakeholder country dialogues, recently facilitated by GWP on the SDGs, and not only hard infrastructure water projects. "Which choices we make in investments have substantial impact on sustainable growth", she stressed, presenting the GWP-OECD global dialogue on water security and sustainable growth, "as too little has been done so far in this area".
Martina Zupan also emphasized that nothing mentioned at the Summit can be addressed without proper investments and financing of water.
The Summit also brought concrete case studies from the business community who showed interest in cooperating with governments to ensure that water is beneficial to people, environment and the industry. Most of the technological innovations made by the industry sector aim at making water utilisation more efficient. Business is ready to make investments as they see that, for instance, the revitalisations of rivers gives economic development. Several businesses and organisations, including GWP, had a booth in the Expo Area.
Hungarian President at Award Ceremony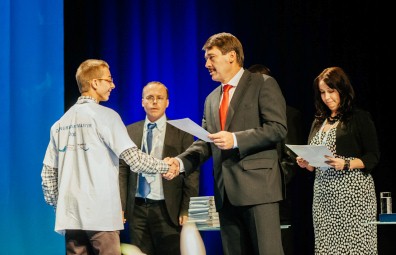 GWP Hungary, with its Chair Jozsef Gayer, was instrumental in organising the event and were together with GWP Central and Eastern Europe honoured to have the Hungarian President Janos Ader present at the Award Ceremony of the Danube Art Masters 2013, won by Croatia. The President handed out the awards, and the ceremony with pupils from 13 Danube Basin countries was moderated by GWP Hungary's Monika Jetzin.
Youth Forum
GWP Senior Knowledge Management Officer Dr Danka Thalmeinerova moderated the Youth Water Forum where the price and costs of water was one of the topics discussed. "We feel very confident to know what is the price of daily commodities such as milk, bread, coffee, even other commodities that we do not purchase every day: shoes or a holiday trip. But we are less clear about 1 litre of water that drop from our water taps. Why are we able to tag a monetary value to many commodities and have doubts to do the same to water?Why is a country's wealth expressed in gold, diamonds and oil and not by its water resources?" was one topic of discussion.
The water community at the high-level meeting in Budapest clearly expressed its support for an integrated approach to water resources management as the solution to a better future.
Water cooperation, good governance, multi-stakeholder engagement and a participatory approach to water resources management, the cornerstones of the integrated approach, was stressed as the solution by many high-level speakers. The Hungarian Minister for Foreign Affairs closed the meeting by concluding that "water unites rather than divides", solutions must be found and therefore we need a specific SDG on water.
Top Photo: The stage at the Summit. GWP's Chair 4th from left.
Inset Photo 1: GWP delegates Dr. Danka Thalmeinerova, Dr. Ursula Schaefer-Preuss and Dr. Mohamed Ait-Kadi.
Inset Photo 2: Dr. Ania Grobicki at the Civil Society Forum
Inset Photo 3: Hungarian President Janos Ader handing out award.