The RCP meeting is the highest decision-making body of GWPEA composed of all Partners of Global Water Partnership (GWP) in the Eastern Africa Region and it convenes once every two years.
The meeting hybrid brought together delegates from the Eastern African Regional countries including Burundi, Ethiopia, Kenya, Rwanda, Somalia, Sudan and Uganda . These were representatives from the leadership of these Country Water Partnerships as well as Government officials from the Ministries in charge of water and environment from the respective countries. GWPO was represented by Mr. Ralph Philip, the Global Coordinator, Network Support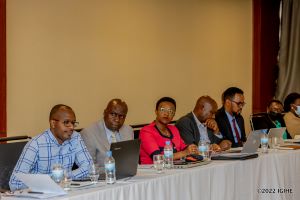 The overarching objective of the Consulting Partners meeting was to get strategic direction for the GWP Eastern Africa regional and country governance processes. The meeting convened to chart a clear direction for GWPEA hosting arrangements, discuss modalities of strengthening the Country Water Partnerships and their financing as well as review the amendments to the GWPEA constitution. It was also an opportunity for the transitioning of the RSC Chair from Kenya to Rwanda
According to the constitution of GWPEA, one of the RCP meeting's major responsibility is to initiate and decide policy matters and give instructions for their execution. It was resolved in the meeting that communication flow shall be initiated from the GWPEA secretariat to the various Country Water Partnerships and on to the Government ministries who should also be looped in on the various activities being undertaken by the CWPs. "There is need to strengthen the Country Water Partnerships and the only way to do it is by streamlining communication, where we have a flow from the secretariat through the countries up to their water ministries", said Mr. Francois Tetero, the new Chairperson of the committee.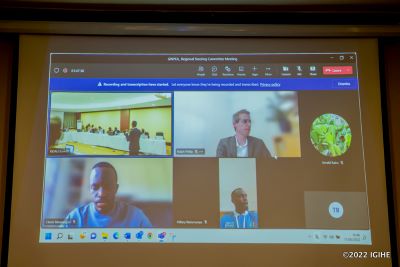 Apart from inviting only the members of the committee, it was suggested that Donor Partners for the specific projects being undertaken within the CWPs should also be invited to attend in order to devise ways for future funding prospects.
GWPEA works with these Country Water Partnerships to address water security issues and environmental challenges such as drought, floods, food insecurity, climate change and water insecurity. It strives to promote the Integrated Water Resources Management (IWRM) approach to foster the coordination, development and management of water resources for sustainable development.