Dr. Chris. K. Kiptoo, The Principal Secretary of the Ministry of Environment and Forestry of Kenya, is the new Chair for the Regional Steering Committee of the Strengthening Drought Resilience for Smallholder Farmers and Pastoralists in the IGAD Region -DRESS-EA project. Kenya, as a National Executing Entity of the project took over from Djibouti, which held the position since last year under the leadership of the Secretary General of the Ministry of Agriculture, Water, Fisheries and Livestock in Djibouti.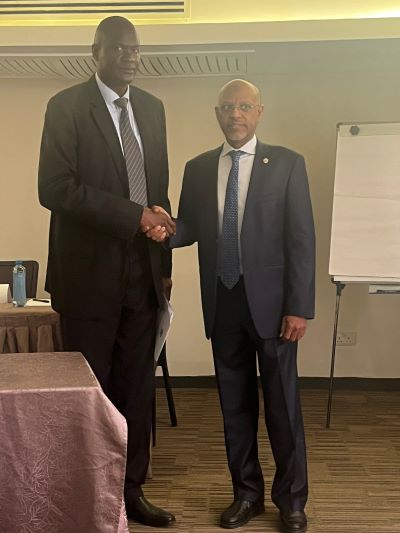 Mr. Mirasi (left) takes over chairmanship on behalf of Dr. Kiptoo, from Mr. Del Wais, the Director for General in the MAWFL of Djibouti
In his inaugural speech, Dr. Kiptoo, the incoming chair, who was represented by Mr. Tom Mirasi, recognized the tremendous efforts that Djibouti has made in leading the committee in the past year towards steering the implementing and executing entities of the DRESS-EA project to adhere to adaptation and resilience within the changing environments. He pointed out the challenge of drought which the region is facing, that has affected over 20,000 livelihoods in Kenya, especially the smallholder farmers and pastoralists. He reiterated that the DRESS-EA project came at a critical time to act as a catalyst for more resource mobilization and therefore there is need to work together for the successful implementation of the project.
"I know that the RSC is playing a pivotal role in the Governments of the four executing entities, to steer the project towards attaining its objectives, and I am confident that this commitment is enough to lead this project to reach out to the vulnerable communities', he said in his speech. He called upon all stakeholders to fast track its implementation. He re-echoed his commitment and that of the Government of Kenya towards leading and supporting the implementation of the project.
The Regional Steering Committee for the DRESS-EA project is the highest governing body of the project, which provides its strategic direction at the regional level. It also provides guidance for the planning and execution of the technical activities of the project while giving recommendations of the progress of its implementation. The previous RSC meeting was held in Djibouti. The Committee meeting is held every after four months with the main aim of examining the progress of executing the DRESS-EA project and the chairmanship of the RSC is a rotational position.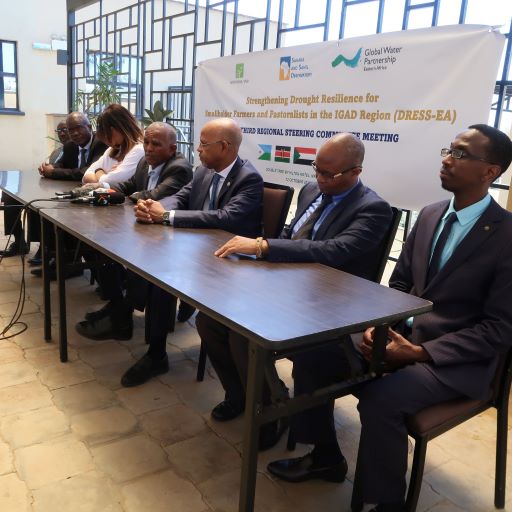 The RSC members during a press conference which was held at the event
The Sahara and Sahel Observatory (OSS) is the Implementing Entity of DRESS-EA and sits on the RSC committee as an observer to oversee and supervise the project. On behalf of the Executive Secretary of the OSS, Ms Khaula Jaoui, Climate Department Coordinator at OSS, highlighted the importance of making concrete decisions that would enable the entities both regional and national, to catch up on the delays in the past two years of execution of DRESS-EA project.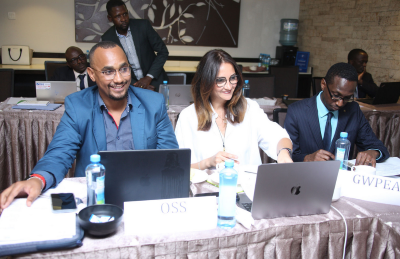 From left to right: Mr. Steve Muhanji, Ms. Khaula Jaoui (from OSS) and Mr. George Sanga, GWPEA Regional Coordinator, following the proceedings of the event