At the Uganda inception meeting for the Continental Africa Water Investment Program (AIP) that was held on 4 February 2021 in Kampala, the relationship between gender, water security, and climate resilience in Uganda was highlighted using a gender analysis that was commissioned by GWP in 2020. Meeting participants included government ministries and agencies affiliated with climate, water, gender and finance as well as civil society organisations and the private sector.
The purpose of this inception meeting was to introduce the AIP's Support Programme on Water, Climate, Development, and Gender Transformation (AIP-WACDEP-G) to key Ugandan stakeholders with the intention of seeking local buy-in, mobilising partnerships for successful program implementation, as well as raising awareness on what a gender transformative approach to water security and climate resilience entails. Continent-wide, the AIP aims to mobilise $USD 30 billion in climate resilient water investments by 2030.
Caroline Benda Rukundo, GWP Eastern Africa's Gender Advisor, shared highlights from the GWP-commissioned gender analysis conducted in Uganda. She revealed that while Uganda has made significant strides in designing inclusionary policies that consider gender needs and issues, "…the policies do not fully address the underlying causes of gender-based inequality, harmful gender norms, and unequal power relations."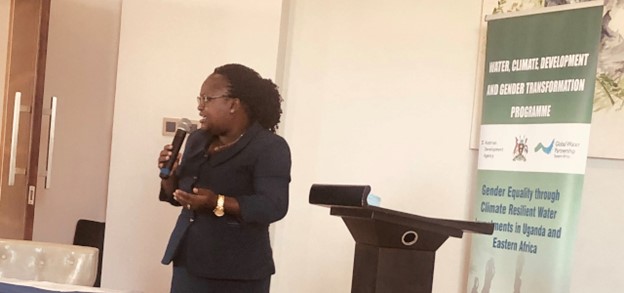 Caroline Benda Rukundo, GWP Eastern Africa's Gender Advisor
GWP's Africa Technical Advisor, Kidanemariam Jembere, prefaced the GWPEA's Advisor's findings by indicating that the gender gap which exists in water resource management is not unique to Uganda but is continent wide. Presently, WACDEP-G will initially target five countries as pilot projects: Benin, Cameroon, Tunisia, Uganda, and Zambia and the lessons learned from these pilots will inform the scale up to implement the program in an additional 13 countries, bringing the total to 18 countries across Africa.
Dr. Florence Adongo, (Director, Water Resources Management) from Uganda's Ministry of Water and Environment – through which the WACDEP-G program is being operationalised in a collaboration with GWPEA – described the program as a timely intervention saying that the program is "…fundamental to Uganda's socio-economic development because integrating gender equality in all our programming…is essential for ensuring water security and developing climate resilience for our entire population."
The Austrian Development Agency (ADA), which is providing financial support to the WACDEP-G program was represented at the inception meeting by Dr. Roswitha Kremser, Head of Uganda Office, Coordination Office for Development Cooperation at the Austrian Embassy. In her remarks, Dr. Kremser reiterated the ADA's continued support to the implementing partners emphasizing that, "…Unless gender equality is specifically targeted at the systemic level, the fast-growing initiatives and investments in water security and climate resilience may not be socially sustainable and may significantly exacerbate gender inequalities."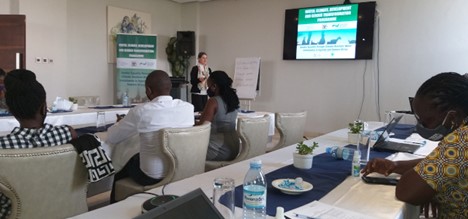 Dr. Roswitha Kremser, Head of Uganda Office, Coordination Office for Development Cooperation, Austrian Embassy
Speaking directly to the Ugandan context, Dr. Kremser added, "In the context of an ever-growing population in Uganda, the closure of the gender gap becomes more and more urgent so that everybody – women and girls as well as men and boys – can equally access public services."