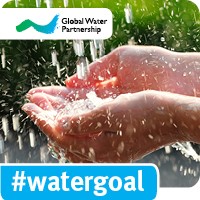 Countries are currently negotiating the Sustainable Development Goals (SDGs) as part of the United Nations Post-2015 Development Agenda. The SDGs will replace the current eight Millennium Development Goals (MDGs) which expire this year.
The UN General Assembly, on September 8, 2014, adopted a framework for the SDGs which includes Goal #6: Ensure availability and sustainable management of water and sanitation for all.
GWP Patron Ellen Johnson Sirleaf, President of Liberia, has expressed support for a dedicated water goal, particularly "as a priority for the economic and social development" of Africa. "Water security," she said, "is at the heart of our global development challenge."
Ensuring that Goal #6 stays on the list has become more compelling given the World Economic Forum (WEF) Global Risk Perception Survey 2015 which rated "water crises" as the #1 risk facing the world in terms of its potential impact. "If we are to ensure a sustainable and secure future for humanity, one of the top development priorities must be to improve the management of the world's water resources," said a recent GWP blog in response to the WEF report.
The GWP campaign is part of a broader outreach, in collaboration with UN-Water, to raise awareness of the links between Water and Sustainable Development, the theme of World Water Day 2015 (March 22).
Consultations Reinforced Support for Water Goal
In 2013-2014 GWP held 29 country-level consultations focusing on water and the post-2015 development agenda. The consultations brought together thousands of participants from government, the private sector, and civil society.
The outcome of the consultations showed a broad consensus for a dedicated water goal, and it was generally agreed that water must be a fundamental part of the post-2015 agenda.
The final list of SDGs is expected to be adopted by world leaders during the 70th Session of the United Nations General Assembly in September 2015. In the months leading up to this, GWP's network of 13 Regional Water Partnerships, 84 Country Water Partnerships, and its more than 3,000 Partners are expected, in varying degrees, to reach out to national leaders to ensure that water has the highest possible profile in the world's future development efforts.
A new web portal for the campaign, www.globalwatergoal.org, has been launched, containing resources and materials to support the campaign.