GWP Hungary Foundation has been organizing the Stockholm Junior Water Prize (SJWP) in Hungary since 2013. The patron of the Hungarian competition is the President of Hungray Mr. János Áder. This year in Hungary, a total of 17 projects were received. Altogether 38 secondary school students were involved, including individual contestants, two and three member teams as well. The projects dealt with different topics, like greywater utilization, ecosystem services, water quality of drinking water and of surface water, environmental awareness, euthrophication and wastewater treatment.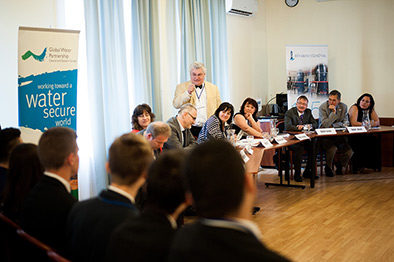 The jury, chaired by Professor András Szöllösi-Nagy, former Director of the Division of Water and Secretary of the International Hydrological Programme of UNESCO and Governor Representative of the World Water Council, screened all projects using the same criteria as for the international final in Stockholm. The other members of the jury were leading experts of the water sector in Hungary. After two screenings, the jury selected the five most promising projects for the national final:
Environment-efficient and sustainable reusing of different greywater and deposit forms by Filipcsuk Péter Gusztáv and Jónás Andrea Petra
What can we gain by using grey water? by Kovács Dávid and Szűcs Iván Ákos. Their video.
Studying the processes of eutrophication in the Nyéki-Danube backwater by Topolszki Nóra and Pálfy Brúnó
The effect of TiO2 coating on Polyacrylanitrile membrane's filtration properties in case of oil in water emulsion filtration by Halkó Ádám
"The living water"- solutions of the surface water protection at the Szedresi Ős-Sárvíz by Rappay Bence Zsolt and Varga Peter
At the final, the contestants presented in English their main findings and answered to the jury's squestions. The winners of this year's SJWP competition in Hungary are Kovács Dávid and Szűcs Iván Ákos from Elek Kada Secondary School of Economics with their work What can we gain by using grey water? The authors investigated rainwater harvesting under local conditions. They justified by calculations the potential saving (in terms of water and money) in their secondary school by using rainwater for toilet flushing.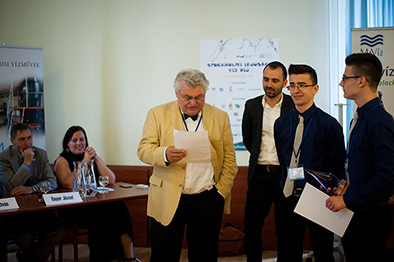 The prize was handed by Mr. István Joó, Ministerial Commissioner at the Ministry of Foreign Affairs and Trade of Hungary. The national winners will have the chance to present their project at the international final in Stockholm in August.
For more information about the Stockholm Junior Water Prize (SJWP) in Hungary, contact GWP Hungary at gwpmo@gwpmo.hu
Photo credit: GWP Hungary