The workshop
Global Water Partnership in Central and Eastern Europe (GWP CEE), the University of Ljubljana and WISDOM from Moldova met with other potential project partners from the Slovak University of Technology in Bratislava, Women in Europe for a Common Future (WECF), Institute for sustainable technologies (AEE INTEC), University of Natural Resources and Life Sciences (BOKU) and MAMA-86.
The experts discussed their ideas for SANDANUBE project, based on the current situation in the countries regarding sanitation and small wastewater treatment plants in rural areas, reuse potential, nutrient cycling, source separation possibilities, as well as demonstration sites for sustainable small scale sanitation.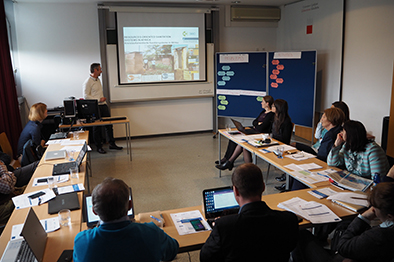 Emerging questions
The workshop was focused on identifying the hotspots of sanitation problems which need to be solved in the region. The experts were reflecting on the most relevant questions for the future project: What are the needs and challenges in the region? What positive change will bring the implementation of the project? Who will benefit from it? Which actions are needed in order to achieve the change? As a result of the workshop a draft framework was designed, which will serve to develop a full scale project proposal.
Study visit
During the study visit, the participants had the chance to visit source separation unit (black, grey, yellow water) with low flush toilets at Koto Ljubljana, as well as a constructed wetland for sewage treatment at Mrzli vrh.
About SANDANUBE
The main objective of SANDANUBE is to develop a project proposal which can be then applied to different funding programmes. The team of partners (GWP CEE, the University of Ljubljana and WISDOM) received a grant from the European Union START - Danube Region Project Fund for SANDANUBE - Sustainable sanitation in small settlements of the Danube region. START is a new pilot initiative of the EUSDR which provides small grants for the development and implementation of Danube Region projects.
The project is part-financed by the European Union.
For more information about the SANDANUBE project, please contact Sabina Bokal, e-mail: sabina.bokal@gwpcee.org.