The fact that young people are our future is undeniable. To be involved in water resources problems solution young people have to know a lot particularly IWRM principles. Series of events for young people in Central Asia and Afghanistan are planned to enhance youth knowledge on IWRM.
The first event - the IV National Student Contest "Integrated Water Resources Management" - was held on the 28th of March, 2017 in the Kyrgyz-Russian Slavic University (KRSU) in Bishkek with the active participation of the UNESCO Chair on Water resources management in Central Asia at the German-Kazakh University. The competition was held with the great support of the Ministry of education and science of Kyrgyz Republic, Global Water Partnership (GWP), German academic exchange service (DAAD), the World Bank Group and the Intersectoral working group in Kyrgyzstan (IWG KR).
The program of the event consisted of three parts: - 1st phase of the Olympiad (written); - "Water Day" (expert's master class) and students' colloquium; - 2nd phase of the Olympiad (oral, for the participants who passed the 1st phase). Questions of the Olympiad were prepared by respected international experts and specialists in water resources management.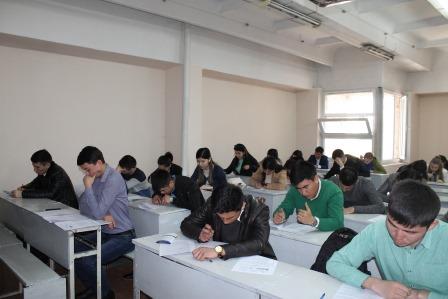 Students from 14 leading universities of Kyrgyz Republic attended the IWRM contest.
During the scientific student workshop "Water day" the masterclasses was conducted by 2 experts: A. Djailoobaev (GWP CACENA) and S. Erokhin (National Academy of Sciences of the Kyrgyz Republic). At the Colloquium the students from KRSU, KNAU (Kyrgyz National Agrarian University named after K.I.Skryabin) and AUCA (American University of Central Asia) demonstrated their skills and knowledge of their specialty at the highest level by presenting their projects.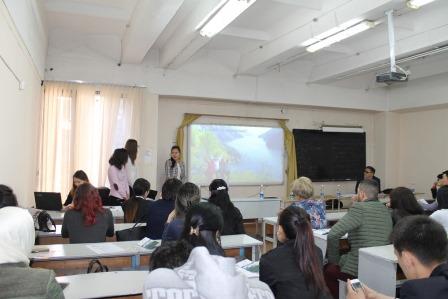 The winner of the Contest in Kyrgyzstan was Doranova Dinara, the student of the 4th course of the Academy of Public Administration under the President of the Kyrgyz Republic. The three finalists were presented with commemorative gifts. This year the National Student Contest in Bishkek was one of the most successful in Central Asia.
Other contests:
In Tajikistan - on the 11th of April 2017 in Dushanbe at the Tajik Agrarian University.
In Afghanistan - on the 8th of May 2017 in Kabul at the Kabul Polytechnic University.
In Kazakhstan - on the 3rd of June 2017 in Almaty at the German-Kazakh University.