The AIP is championed by the three African HLPW members (Mauritius, Senegal and South Africa) and will support the implementation of the key recommendations of the HLPW Outcome Document relevant to Africa, in addition to revitalising efforts to achieve – among others – the commitments of the July 2008 Sharm el-Sheikh Declaration (Assembly/AU/Decl.1(XI)) of the Heads of State and Government of the African Union; the N'Gor Declaration on Water Security, Sanitation and Hygiene; and the water related priority projects of the Programme for Infrastructure Development in Africa (PIDA).
In June 2017, the High Level Panel on Water (HLPW), through the Government of South Africa, commissioned Global Water Partnership (GWP) to develop a legacy water initiative for Africa. In response, the Africa Water Investment Programme (AIP) has been developed in collaboration with the African Union and the African Development Bank /Africa Water Facility.
The HLPW was co-convened in 2016 by the UN Secretary-General and the World Bank President to provide the leadership required to tackle one of the world's most pressing challenges – an ever-growing water crisis. The Panel identified ways in which the world could accelerate progress towards ensuring the availability and sustainable management of water and sanitation for all (SDG 6).
The HLPW comprised 11 sitting Heads of State from Australia, Bangladesh, Hungary, Jordan, South Africa, Mauritius, Mexico, Netherlands, Peru, Senegal, Tajikistan; and a Special Advisor.
Honourable Andries Carl Nel, the Deputy Minister for Cooperative Governance and Traditional Affairs of the Republic of South Africa, provided an overview of the AIP during the launch of the HLPW Outcome Document in which the African Water Investment Programme is highlighted as one of the new cooperative initiatives of critical importance to the new water agenda.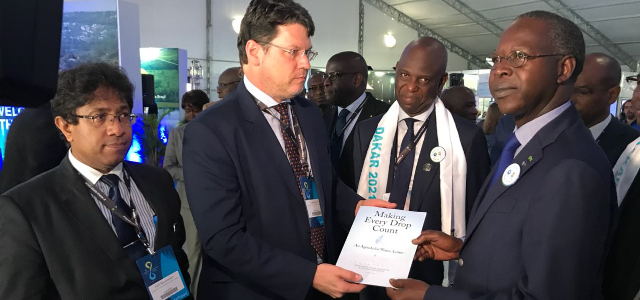 The Deputy Minister presented the HLPW Outcome Document and a copy of the AIP Concept Brief to Prime Minister Dionne, highlighting its vital importance to directly respond to Africa's urgent need for investments in water security.
Speaking earlier at the World Bank event on the HLPW final outcome, the Honourable Andries Nel affirmed the commitment of the African HLPW Members – and the Republic of South Africa in particular – to both engage the Member States of the African Union (AU) and mobilise support from the AU's sovereign and non-sovereign partners to implement the AIP. The process will be technically facilitated by the GWP in collaboration with the AfdB/AWF, the World Bank, AMCOW, NEPAD, and other interested partners. The organs, structures and institutions of the African Union will provide political leadership and guidance to the AIP.
To read more about the AIP, click here.
To read the press release, click here.