"The purpose of the meeting is to review the preparation of Africa for the 8th World Water Forum in terms of the Africa Regional Report, the Africa Regional Sessions, and the launching of the AIP," said Kidanemariam Jembere, Senior Technical Advisor GWPSA/CU.
The Eighth World Water Forum will be held 18-23 March 2018 in Brasilia, Brazil with the Theme "Sharing Water."
The 8th World Water Forum is designed around four main Processes: Thematic, Regional, Political and Sustainability; as well as a Citizens' Forum, and an Exhibition. Each of the processes are led by Commissioners.
1. Thematic: for continuation of building on previous experiences
2. Regional: tuned to the Thematic process but facilitate regionally focused experiences and sharing
3. Political-for additional engagement of authorities, supported by previous agreements on SDGs and the Paris Climate Agreement
4. Sustainability: to assure practical implementation of solutions
5. Citizens Forum-to facilitate engagement of citizens.
Six Thematic Areas are identified for the WWF-8: Climate, People, Development, Urban, Ecosystems and Finance. Three cross cutting areas are also linked to the six thematic areas, viz, Sharing, Capacity and Governance.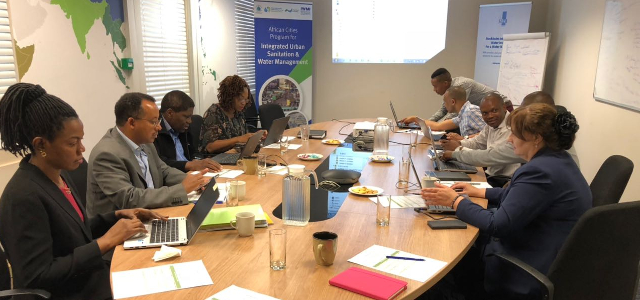 The Regional Process Commission, with overall guidance chaired by the African Development Bank (Chair) and the Brazilian Ministry of Integration (Vice-Chair), facilitates regional and sub-regional involvement of stakeholders through a preparatory process leading towards the Forum in Brasilia in 2018, utilizing commonalities within regions for sharing knowledge and learning of best practices. With 6 Regions, some divided into sub-Regions, the Regional Process brings together regional specificities on a global platform.
The African Regional Process, organized under four sub-Regions (Eastern Africa, Southern Africa, Central Africa and West Africa), is overall coordinated by the African Ministerial Council on Water (AMCOW). Global Water Partnership Africa (GWP-Africa) technically coordinates the Africa Regional Process. An overall support to the African Regional Process has been provided by the African Development Bank (AfDB).
The World Water Forum (WWF) is an international event, organised every three years by the World Water Council in collaboration with the authorities of the host country. It is the largest water-related event in the world, aimed at putting water firmly on the international agenda.