The working lunch was an opportunity for Ms. Bekele-Thomas who took office as the first female CEO of AUDA-NEPAD in May 2022, to address African Ambassadors, High Commissioners, and other development partners in South Africa in her new capacity, and to share her organisation's vision for Africa's transformation.
The Agency gave insights into its new initiatives which focus on youth employment and job creation, project preparation support, and work with African Ministries of Planning to anchor Agenda 2063 in national development plans, as well as to put into action the newly created AUDA-NEPAD Development Fund.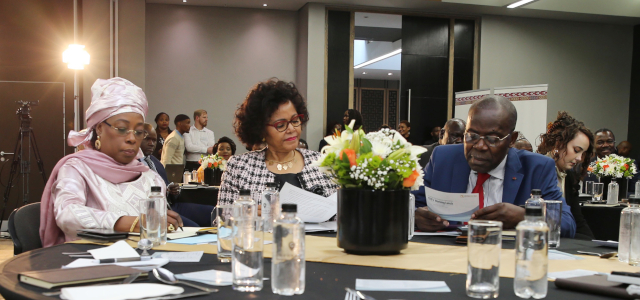 AUDA-NEPAD CEO Ms. Bekele-Thomas (middle) at the AUDA-NEPAD working lunch
Addressing the invited guests, Ms. Bekele-Thomas, who was previously head of the UN system in South Africa, emphasised the significant role of the AUDA-Development Fund. "With our own African Development Fund, we will be able to make our own decisions, and determine our own development and transformation programmes," said Ms. Bekele-Thomas.
She said AU Members States should take pride in their two key growth roadmaps- Agenda 2030 and Agenda 2063, because they carry implementable and long-term transformation objectives which will impact on the future of our children and grandchildren.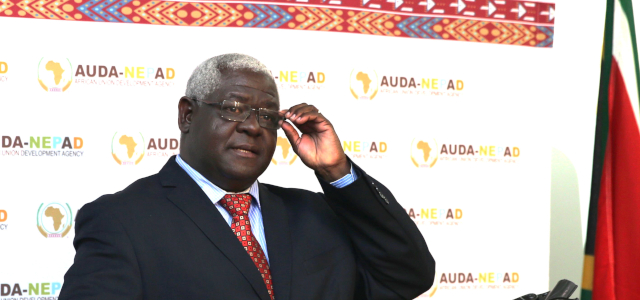 GWPSA Vice Chair Eng. Mvura speaking at the AUDA-NEPAD Ambassadors working lunch
GWPSAF Vice Chair Engineer Munashe Mvura shared some milestones and areas of cooperation between the two organisations, through the Programme for Infrastructure Development PIDA, mainly around the water sector. Eng. Mvura highlighted the recent launches of the Zanzibar and Zambia Water Investment Programmes in March and July respectively, as well as the launch of the High-Level Panel of former and current of Heads State, at the 9th World water Forum in Dakar, Senegal. The Panel has committed to finding ways of mobilising $30 billion a year by 2030, for water investments in Africa.
Speaking on behalf of the Diplomatic Corps, in his capacity as Dean of the Heads of Mission in South Africa, Ambassador Andre Nzapayeke from the Central African Republic commended the great work that the AUDA-NEPAD has done since it was established in 2001, as a coordinating agency known as the New Partnership for Africa's Development.
"After 21 years since the formation of NEPAD, African countries should intensify support for the Agency. The African Diplomatic Corps is ready to work with the new CEO of AUDA-NEPAD and to give her all the support," said Ambassador Nzapayeke.