GWPSA, in partnership with its country offices of GWP Tanzania and GWP Botswana, is implementing the European Union-funded GCCA+ Integrated Water Resources Management (IWRM) pilot projects in Botswana and Tanzania on behalf of the SADC Secretariat. At a Grantee workshop from 25 to 28 April 2023, in Johannesburg, South Africa, GWPSA made a presentation on the project which discussed milestones in the two countries.
The workshop which was attended by the SADC Secretariat, UNEP, and regional organisations including SACREEE, and CARDESSA, also prepared for the close out of the project, updated on the implementation progress, and discussed some key challenges and next steps.
"The Project aims at strengthening the climate resilience of local communities in the Wami/Ruvu River Basin in Tanzania and in the Metsimotlhabe River catchment in Botswana through the pilot implementation of climate-resilient Integrated Water Resources Management (IWRM). Lessons from the demonstration project will be documented and shared at the regional level," explained Dr. Annah Ndeketeya, AIP SDG and Climate Programme Technical Coordinator – GWPSA.
Ms. Laura Danga AIP Programme Coordinator – GWPSA, mentioned that significant progress had been accomplished and the level of community involvement through the Metsimotlhabe Community Trust is commendable.
"In Botswana, GWPSA has facilitated the installation of a solar-powered borehole for both hydroponics & drip irrigation systems that will see over 15,000 people directly and indirectly benefiting, including vulnerable groups, women & youth in Botswana's Metsimotlhabe Village. The community is currently exploring replicating and upscaling this ongoing pilot project and has developed an interim project management committee with clearly defined roles and responsibilities to effectively manage the project beyond the pilot phase," she said.
Amongst other benefits, 20 members of the Metsimotlhabe Community in Botswana have been trained by the Agribusiness Promotion Division from the Ministry of Agriculture and Local Enterprise Authority in vegetable production, irrigation techniques, safe handling of agrochemicals, marketing of horticulture produce, pests & disease control, hydroponics, and record keeping. Practical Demonstration Sites such as the Glen Valley Horticultural Incubators have been visited and trainees from Metsimotlhabe will continuously draw lessons from such initiatives.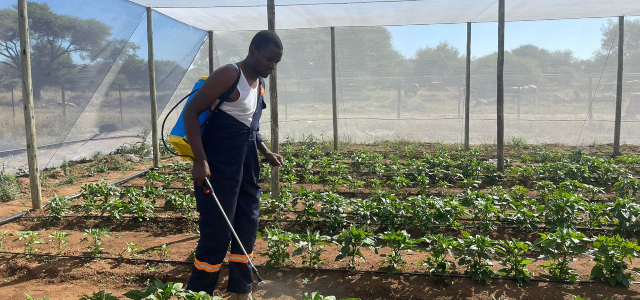 Mr. Nareetsile Orapaleng, Project Manager for the Metsimotlhabe Community Trust in Botswana, spraying liquid organic fertilizers on the green peppers
Meanwhile, the Metsimotlhabe Community Trust has begun generating income from their horticultural produce having secured a contract to supply vegetables to a local supermarket.
In Tanzania, Mr. Chrisogonous Peter, Programme Officer - GWP Tanzania, also expressed satisfaction with the progress made there.
"In Tanzania, the project has constructed a water resources information hub for the Water User's Associations in Mvuha which will strengthen management of water resources at the grassroots level. The project has also constructed a cattle trough and a solar-operated borehole at Ruvu Darajani, to help livestock keepers cope with the impacts of climate change. Approximately 2000 livestock is expected to benefit from the water trough, and 5000 residents to benefit from the domestic water point.
"Once all works are completed, the drilled solar powered borehole and constructed cattle trough in Tanzania will be handed over to Rural Water Supply and Sanitation Agency - RUWASA who will operate and maintain project and ensure project sustainability, and the Wami/Ruvu River Basin Authority will be responsible for overseeing the operationalisation of the water resources information hub in Mvuha," said Mr. Peter.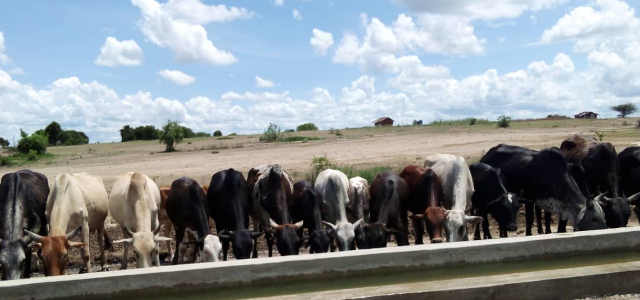 Cattle drink water in the newly constructed trough at Ruvu Darajani in Tanzania
As a way forward, the project has started developing a replication and upscaling strategy and a sustainable financing strategy to increase climate resilient IWRM in both countries. This will see food security being achieved amongst other ecosystem-based adaptation mechanisms at the catchment level.
"The GCCA+ project is also supporting the two countries to develop climate adaptation targeting vertical climate funders to mobilise funds for implementing climate resilient IWRM investments. Best practices and lessons learned from implementing these pilot projects are going to be shared during a regional knowledge-sharing and learning workshop scheduled later this year," explained Dr Ndeketeya.