GWP-SA Executive Secretary and Head Coordination Unite, Mr. Alex Simalabwi said the meeting's main agenda was to review GWP Africa's programmes, their alignment to development priorities of the continent and regional economic communities' agendas.
"Our Africa region programme meeting this week provided a platform to develop strategies for engaging governments and key partners as well as mobilising funds from those key partners," noted ES Simalabwi.
GWP AFRICA regional teams held their Programmes Meeting on 24 July - 26 July 2017, at GWP Africa's Coordination Unit and Southern Africa's Regional office in Pretoria, South Africa.
The inter-regional meeting was aimed at facilitating the exchange of experiences and knowledge relating to programme development and implementation.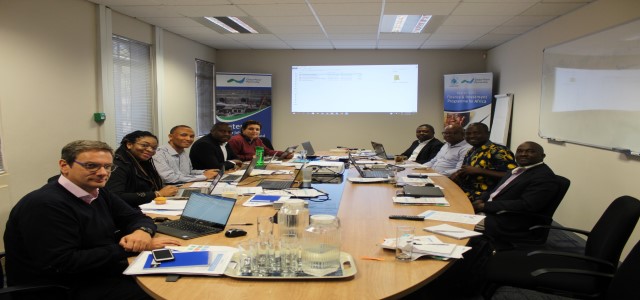 It anchored on GWP Africa's ongoing and future programmes namely the Water Energy Food (WEF) Nexus Programme, the Water Climate and Development Programme (WACDEP), Water and Jobs Programme, Trans-Boundary Water Management Programme; and Integrated Urban Sanitation and Water Management for African Cities Programme.
"It is no use having good policies and plans if you can't implement them and to implement them you need investments to come in," said Simalabwi.
As a result, GWP's programmes work towards leveraging and facilitating investments, so as to create sustainable developments in Africa in energy, urban systems, sanitation as well as sustainable employment creation among other initiatives.
"At the end of the day it is not just about having programmes but having programmes that are advancing the African Development agenda, in particular the African Union Agenda 2063 at the continental level and the regional economic community's agendas at regional level. Furthermore, we prioritises advancing the African Development Bank (AfDB)'s 'High 5' Priorities which are to Feed Africa, Light up Africa, Industrialise Africa, Integrate Africa and Ensure the Improvements of Livelihoods and Wellbeing of African Citizens", said Simalabwi.
Mr Simalabwi highlighted that GWP Africa is committed to advancing Africa's water security, ensuring climate resilience development and contributing to the overall development agenda which is sustaining and creating jobs for the continent. Overall the organisation has taken great strides in fulfilling its commitments citing synergy as a key success factor.