The day contributes to addressing the Sustainable Development Goal (SDG) 6, which is to "Ensure availability and sustainable management of water and sanitation for all". SDG Target 6.2 aims to ensure that everyone has a safe toilet and that no-one practises open defecation by 2030. Achieving universal access to adequate and equitable sanitation and hygiene by 2030 is a major challenge in many parts of the world and this poses risks to the entire Agenda for Sustainable Development.
Sanitation is important for dignity and human rights and has an important gender element, as toilets should ensure privacy and safety for the needs of women and girls. One-third of schools in sub-Saharan Africa and Eastern and South-Eastern Asia have no sanitation service, posing a problem for girls during menstruation. More than 620 million children worldwide lack a basic sanitation service at their school. In most countries, less than 50% of schools have toilets accessible to students with reduced mobility.
Today, 4.5 billion people live without safely managed sanitation. Of the 892 million people who still practise open defecation, 90 per cent of them are in rural areas. The majority of these people live in just two regions with 558 million in Central Asia and Southern Asia and 220 million in sub-Saharan Africa.
Exposure to human faeces on this scale has a devastating impact on public health, living conditions, nutrition, education and economic productivity across the world. To end the practice of open defecation and ensure access to sanitation for all by 2030, substantial investment will be required, particularly in rapidly growing urban areas.
Through the Integrated Urban Water Management (IUWM) and Water Sanitation and Hygiene (WASH) programmes GWPSA continues working with partners towards the alleviation of sanitation challenges in Southern Africa.
In Kinshasa, Democratic Republic of Congo, GWPSA has supported the development of West Kinshasa IUWM Master Plan and Investment Programme, worth more than €100 million over a 25-year period. GWPSA was instrumental in helping to leverage €2 million from the African Water Facility (AWF) to support this process, which has been conducted jointly with the Government of DRC and the local water utility Régie de distribution d'eau (REGIDESO). Other support to the programme was in the form of preparation of the inception report, the development and the approval of the Technical Assistance Action Plan and the Capacity Building Plan, as well as preparation of capacity building activities.
In Mozambique, GWPSA leveraged €1.5 million from the AWF to develop an IUWM investment plan worth an estimated total of €30 million over ten years for the cities of Chimoio and Inhambane.
In Seychelles, support was given by GWPSA to the Public Utilities Corporation (PUC) of Seychelles in securing funding of €1.4 million for a project to mainstream an IUWM approach into the development of the Integrated and Comprehensive Sanitation Master Plan for the country.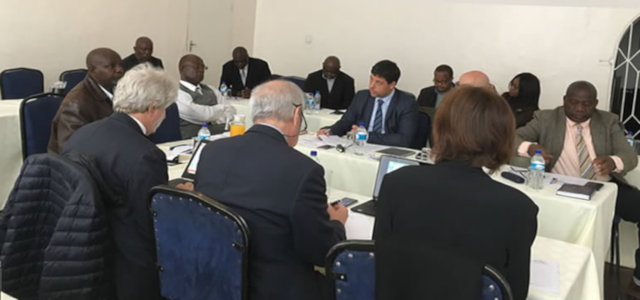 Delegates at a meeting between the Zimbabwean Water Ministry, GWP and other stakeholders
GWPSA supported Zimbabwe in the development Marondera IUWM Master Plan and Investment Programme. GWPSA mobilised €2 million through AWF, the Government of Zimbabwe and other donors.
Global Water Partnership (GWPO) and GWPSA has been supporting WASH initiatives in Madagascar. Support has been given to the United Nations Children's Fund (UNICEF) Madagascar in the development of the WASH Climate-Resilience Strategic Framework in Madagascar, as part of the national sectoral and local adaptation planning and implementation in the country.
GWPSA support to countries in terms of sanitation is tailor-made to the countries' needs and more importantly climatic conditions, hence the climate-resiliency aspect.
Celebrating the Day

Watch Mr Paseka Lesolang Coordinator: GWPSA Youth, Innovation, Jobs and Industrialisation and Managing Director - WHC (Water Hygiene Convenience) and Mrs Julienne Ndjiki: GWPSA Programme Manager speaking on the importance of access to sanitation and GWPSA's commitment to alleviating sanitation challenges in the sidebar above.