The virtual event addressed the need for capacity development at a regional and national level, by supporting early career researchers, postgraduate students, managers, and practitioners in applying the WEF Nexus as a transformative approach to sustainable natural resource management and socio-economic development.
Capacity development first step to WEF Nexus implementation
"The SADC Secretariat recognizes that capacity development is key to the successful implementation of the WEF Nexus approach in the region," said Mr. Duncan Samikwa, Senior Programme Officer on Food Security and Agriculture within the Directorate of Food Agriculture and Natural Resources at the Southern Africa Development Community (SADC) Secretariat.
Achieving water, energy, and food security is a priority for southern Africa – given climate change, increasing urbanization, population growth, and advanced ecosystem degradation. Achieving WEF security will require a collaborative and inclusive approach, which considers the interconnections and interdependencies between the water, energy, and food sectors.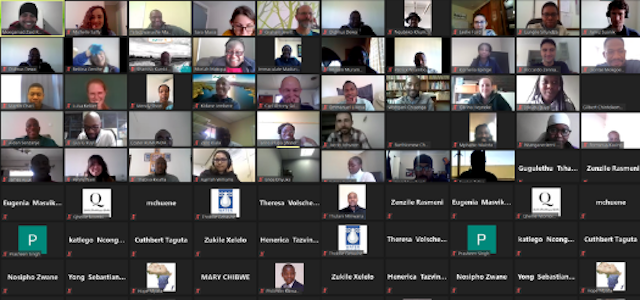 Participants of the WEF-Nexus Masterclass
SADC WEF Nexus Dialogues to build national capacity
SADC is implementing the second phase of the SADC WEF Nexus Dialogue and Investment Project (2020 – 2023), with support from GWPSA. As part of the project, SADC will convene a series of WEF Dialogues on policy and investments issues at regional and national levels.
"The goal of these dialogues will be to integrate coordination mechanisms between the sectors and strengthen WEF capacity at regional and national levels to enhance the adoption of the approach in planning, policy development, and implementation," said Mr. Kidane Jembere, GWPSA Technical Advisor on Water, Climate, Development, and Gender, during the WEF Nexus Masterclass.
"The dialogues will include providing direct assistance to Member States in applying the Nexus approach when planning and preparing projects," added Mr. Jembere.
He said that support to SADC Member States would be offered to achieve the following:
Regional energy policies, strategies, and plans move towards integrated planning with regards to water, agriculture, and the associated resources;
Issues of biodiversity, ecosystems, and land management addressed within present and future panning and policy development; and
Sectors consider a WEF Nexus approach in developing and revising their policies, strategies and plans.
WEF Nexus to unlock enormous value for SADC
The WEF Nexus approach holds value for SADC across five key areas:
Better resource use: pooled resources improve the availability for technical tasks
Partnerships: enables good, practical, and results oriented partnerships to blossom
Sharper institutional focus: promotes tackling common agendas and delivery of common outputs
Better outputs: holistic approach results in broad-based and impactful outputs for food security
Efficiency: use of resources is efficient and provides good value for money
Dr. Simon Mwale, Grants and Programmes Manager at the Centre for Coordination of Agricultural Research and Development for Southern Africa , elaborated on these during the Masterclass.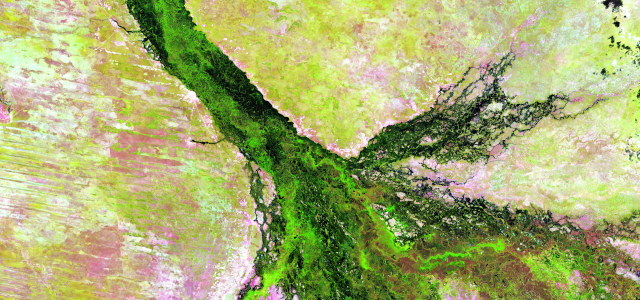 Southern Africa's Okavango River spreads across the landscape of northern Botswana
WEF Nexus' Climate Change application
The Improvement of Livelihoods in SADC Member States through the Adoption of Distributed Renewable Energy for Productive Use project, also supported by GWPSA, was showcased during the WEF Nexus Masterclass.
"The project will enhance the capacity of SADC Member States to undertake adaptation and mitigation actions in response to the effects of global climate change," said Ms. Eugenia Masvikeni, Renewable Energy Expert, from the SADC Centre for Renewable Energy and Energy Efficiency.
This project will be piloted in 5 countries – Angola, Botswana, Malawi, Namibia, and Zambia – over a period of 2 years, with an overall budget of USD$ 646,786.
WEF Nexus successfully applied by Orange Senqu River Basin
The WEF Nexus application by the Orange-Senqu River Commission (ORASECOM) was also showcased during the Masterclass.
"The Orange Senqu River Basin Water Resources are extensively utilised for water supply, food production, and energy security, while simultaneously conserving the environment," said Mr. Lenka Thamae, Executive Secretary of ORASECOM.
"Through the successful implementation of the WEF Nexus approach and the joint long-term planning and equitable sharing of the resource and its benefits, optimal use of the resources will result in finding a balance in the use of water for economic development, environment conservation, improvement of community livelihoods, and climate resilience," said Mr. Thamae.
This WEF Nexus Masterclass was organised by the University of KwaZulu-Natal's Centre for Transformative Agricultural and Food Systems, in partnership with Global Water Partnership Southern Africa, UNESCO-IHE Delft, the Water Research Commission, Ministry of Foreign Affairs of the Netherlands, Water, Energy, Food Nexus in Africa, and WaterNet.
Photo credit: Jeremy Bishop on Pexels
Photo credit: USGS on Unsplash