His Excellency President Jakaya Kikwete, Chair of GWP Southern Africa and the GWP Africa Coordination Unit, at a global leaders' High-Level Dialogue on Climate Adaptation ahead of COP26, stressed the need to accelerate investment in climate-resilient water security in Africa.
The High-Level Dialogue was convened by Ban Ki-moon, 8th U.N. Secretary-General and Chair of the GCA, Kristalina Georgieva, Managing Director of the International Monetary Fund, and Professor Patrick Verkooijen, CEO of the GCA, in Rotterdam, on 6 September.
Watch H.E. President Jakaya Kikwete, GWPSA-ACU Chair and 4th President of Tanzania, address global leaders at the Global Center on Adaptation High-Level Dialogue ahead of COP26.
"It is of utmost critical urgency that water security is incorporated into climate adaptation plans at national and regional levels – specifically in Africa, where global warming is taking place at a faster rate and 700 million Africans still live without access to good sanitation," said President Kikwete.
According to the World Meteorological Organization (WMO), the number of weather-related disasters to hit the world has increased five-fold over the past 50 years. Many of the most affected countries are in Africa, where the IPCC has found that the rate of temperature increase has been faster than the global average, and the frequency and intensity of heavy precipitation events are projected to increase in almost all sub-regions.
Africa's critical – and growing – water investment gap
The African Development Bank estimates that US$ 64 billion in water infrastructure investment is required annually to meet the 2025 Africa Water Vision of Water Security for All. With climate change and Covid, the water investment gap in Africa is growing and is currently estimated at US$ 45-US$ 54 billion annually.
President Kikwete called on world leaders gathered in Rotterdam to consider Africa's growing water investment gap in climate adaptation plans, and to increase investment in climate resilience water security on the continent.
Bilateral meeting to advance water priority in adaptation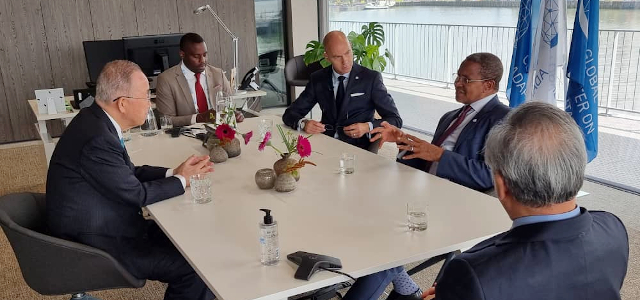 President Kikwete, GWPSA-Africa Chair, and GWPSA Executive Secretary Alex Simalabwi, meet with GCA Co-Chair Ban Ki- Moon, 8th Secretary General of the United Nations, and GCA CEO Patrick Verkooijen
Adjacent to the event, President Kikwete met with GCA Co-Chair Ban Ki- Moon, 8th Secretary General of the United Nations, to discuss GWP and GCA collaboration in Africa to address water challenges through the Continental Africa Water Investment Programme (AIP), which aims to transform the investment outlook for water and sanitation investments in Africa and leverage US$30bn for climate-resilient water security in Africa, and the Africa Adaptation Acceleration Program, which aims to increase climate finance for Africa by mobilizing $25 billion to scale up innovative and transformative actions on climate change adaptation across Africa by 2030.
The meeting was attended by GCA CEO Prof. Dr. Patrick Verkooijen and GWPSA and Africa Coordination Unit Executive Secretary Alex Simalabwi.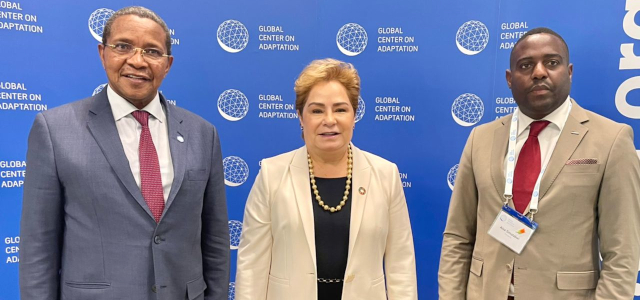 President Kikwete, GWPSA-Africa Chair, and GWPSA Executive Secretary Alex Simalabwi meet with UNFCCC Executive Secretary Patricia Espinosa
President Kikwete also held a bilateral meeting with UNFCCC Executive Secretary Ms. Patricia Espinosa, and stressed the importance of water in climate change and increasing ambition for water at COP 26.
During the meeting, Ms. Espinosa called for increased GWP support to National Adaptation Plans (NAPs) in Africa, as 40% of countries are yet to submit NAPs and most of these are on the continent.
Global Water Partnership's role in advancing water in climate adaptation
Global Water Partnership has a 25 year track record in supporting countries to integrate water resources management in national plans.
"Over the last ten years, GWP's interventions have led to significant outcomes and influenced more than 30 investment plans, strategies, and budget commitments supporting more than €1.5 billion worth of investments, built capacity in more than 60 countries, and improved water security and resilience for millions of people in more than 30 countries," said Mr. Simalabwi, who is also Global Head of Climate Change at GWP.
The organisation's legacy in effecting change when it comes to climate adaptation through the lens of water is detailed in Mobilising Change: 10 years of climate resilient water investments, which was released earlier this year.
Leaders to issue climate crisis call ahead of COP26
The High-Level Dialogue, where President Kikwete addressed world leaders, took place just weeks before the COP26 UN climate change conference in Glasgow, with the goal of issuing a clear call to action for governments, policy-makers, and the public on what COP26 must deliver if communities are to be kept safe from the accelerating climate impacts in the coming decade.
Attendants included Felix-Antoine Tshisekedi Tshilombo, President of the Democratic Republic of the Congo and Chair of the African Union; Patricia Espinosa, Executive Secretary of the United Nations Framework Convention on Climate Change; Akinwumi Adesina, President of the African Development Bank; Ngozi Okonjo-Iweala, Director-General of the World Trade Organizations; and Feike Sijbesma, UN High-Level Climate Champion on Private Sector for COP26.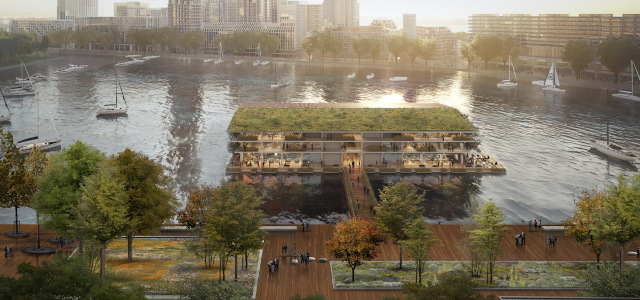 Global Center on Adaptation's new floating office in Rotterdam, Netherlands (photo credit by GCA)
The GCA's new floating office in Rotterdam moored at Rijnhaven, a historical port on the south bank of Rotterdam's Nieuwe Maas River, was inaugurated by His Majesty King Willem-Alexander of the Netherlands, a former GWP Patron, directly following the event. The office is off-grid and carbon neutral, designed to be climate resilient, and will float if sea levels rise due to climate change.