GWP Malawi presented on the Global Water Leadership Programme which is being implemented in some developing countries including Malawi, with the aim of mobilising political leadership to accelerate climate-resilient changes to meet water related Sustainable Development Goals targets.
Making a virtual presentation during a session on Connecting Water Resources Management to WASH on Wednesday September 1, 2022, AIP Malawi Coordinator, Mrs. Deborah Muheka spoke about the need for thorough consultations from local to national levels before solutions to water and sanitation challenges can be developed.
Mrs. Muheka cited the example of the GWL Malawi Programme which begun by gathering the perspectives at the local level on the challenges in the WASH sector and likely solutions and later brought the ideas to the national-level consultation for identification of key barriers.
"We wanted to get a better understanding on the challenges in the water and sanitation sector from the people who experience these challenges and those that work to resolve these at the local level. We also asked the local or regional level stakeholders to suggest solutions that could be implemented at the national levels. These conversations were then taken to the national stakeholder consultation for validation and practical steps on resolving the same," explained Mrs. Muheka.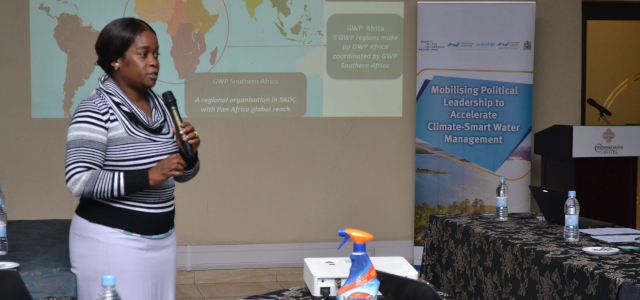 We need to consult widely before developing solutions to water challenges-AIP Malawi Coordinator, Mrs. Deborah Muheka
In the presentation, Mrs Muheka noted that the thorough consultative process helped to narrow down to the key barriers that the GWL Programme will focus on which include low investment in climate resilient water Infrastructure and financing; lack of political will and water leadership; and weak coordination, policy enforcement and regulation.
During the session, delegates wanted to understand if there were challenges reconciling the issues and solutions highlighted at the local level against those raised at the national level.
In her response, Mrs. Muheka said there was a heated debate at the national consultation meeting but eventually stakeholders reached agreement following presentation of data and policy frameworks where it was noted that there were indeed gaps that required some attention.
The Global Water Partnership is working with UNICEF in Malawi to implement the Global Water Leadership Programme, a global initiative to support emerging leadership for improved water, sanitation and hygiene services, and climate resilience.
In Malawi, the Ministry of Water and Sanitation has embraced the GWL Programme indicating that while only about 14% of the population lack access to water, climate change, population growth, floods and droughts threaten to increase water challenges.
Principal Secretary in the Ministry of Water and Sanitation in Malawi Mr. Joseph Magwira says its critical to strategize on interventions that could be implemented as solutions to water and sanitation challenges which affect human life in so many ways, indicating that in Malawi, 52 percent of the total disease burden is said to be caused by sanitation related factors while diarrhoea alone accounts for 7 per cent of under-five deaths.
"There is no better time to make tangible progress on water and sanitation than now when the government has demonstrated high level political will through the establishment of an independent Water and Sanitation Ministry. Now is the time to advocate for increased financial resources for the sector to make progress. We need to develop climate smart solutions that would ensure water and sanitation infrastructure withstands disasters," said Mr. Magwira.
The GWL programme is being implemented in ten countries including Malawi, Tanzania, Bangladesh, Nepal, Central African Republic, Chad, Madagascar, Rwanda, Uganda and State of Palestine.