Kalima School used to have boreholes, but they were destroyed in 2019 when Cyclone Idai hit some parts of Southern Africa including Malawi, in which the World Bank estimates that water infrastructure worth $3.8 million was damaged. A private sugar manufacturing company close to the school later installed a water tap. The company is however a legal holder of water rights in the area, hence only supplies water at times the company is not irrigating the vast sugar plantations, on rare occasions.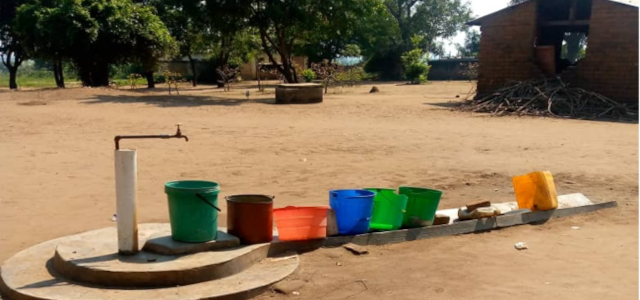 Dry tap at Kalima School
In Central Malawi, a community in Kamuyisa village in Dedza District shuns the salty water from a communal borehole and opts to drink water drawn from Lake Malawi. Toilets are not a common site in this village, and it is not uncommon for people to relieve themselves in the lake.
In Mphomwa area in Kasungu district, women wake up at around 2am in the morning every day and walk for over an hour to draw water from a well that will usually dry up during the day. These women are among 5.8 million people in Malawi whose closest source of water is over an hour's walk away. While they have access, albeit far, about 2.6 million people in Malawi do not have access to safe drinking water.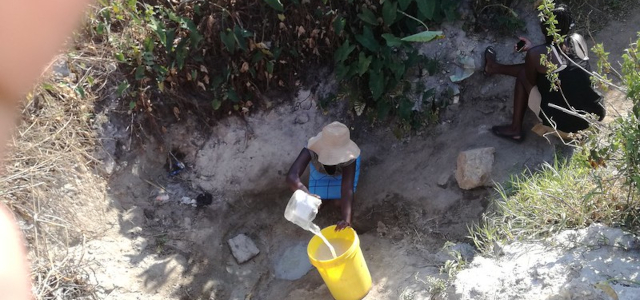 Women drawing water from a well
These are some of the challenges that the Global Water Leadership (GWL) Program under the Global Water Partnership seeks to address in Malawi. Between July and August, the Program engaged stakeholders in the water and sanitation sector across Malawi's three regions where they identified water infrastructure investments, political will, and coordination as the priority areas for interventions that the Global Water Leadership Program should focus on.
At a national stakeholder consultation, Principal Secretary in Malawi's Ministry of Water and Sanitation Mr. Joseph Magwira said it was critical to strategize on interventions for solutions to the challenge of poor access to clean water and decent sanitation, indicating that in Malawi, 52% of the total disease burden is said to be caused by sanitation related factors while diarrhea alone accounts for 7% of under-five deaths.
"There is no better time to make tangible progress on water and sanitation than now when the Government has demonstrated high level political will through the establishment of an independent Water and Sanitation Ministry. Now is the time to advocate for increased financial resources for the sector to make progress. It is the government's expectation that this meeting would brainstorm on the challenges yes, but more importantly, on climate smart solutions that would ensure water and sanitation infrastructure withstands disasters," said Mr. Magwira at the Stakeholder engagement last month.
Africa Water Investment Program Coordinator in Malawi Mrs. Deborah Muheka said the stakeholder consultation workshops were successful in that the water sector in the country was able to prioritize areas of focus. She said GWP Malawi would continue to work with the Ministry and various other partners on climate smart water solutions to deal with the challenges.
"We got critical information from stakeholders in the water sector both at the local and national levels. We have been able to understand the issues that matter, those that need to be addressed, and because our partners were discussing these out of experience, they also suggested practical solutions," explained Mrs. Muheka.
The GWL Program which is being implemented in 10 different countries will provide support to governments in selected low and middle-income countries (LMICs), so that they can become international models for water leadership. This will demonstrate socio-economic transformations that can be accomplished by making climate-resilient and gender-transformative water management and WASH services a political priority.
The GWL program is being implemented in Malawi, Tanzania, Bangladesh, Nepal, Central African Republic, Chad, Madagascar, Rwanda, Uganda, and State of Palestine.