The first cholera case was recorded on 3 March 2022, and almost a year later, cases have been recorded in all 28 districts of the country.
The outbreak has brought water and sanitation challenges to the fore, in both urban and rural areas. The Government of Malawi has confirmed that there are challenges in the provision of safe drinking water in residential areas and schools.
As a result, the Ministry of Education suspended schools at the beginning of the year in the capital, Lilongwe, and the commercial city of Blantyre, in an effort to curb the spread of the disease. The schools have since re-opened.
"There is a need to drill about 1262 boreholes to supply clean and safe drinking water to learners. So far, we have only managed to drill about 500 in schools that are the most crowded," explained Education Minister Agness Nyalonje at a media briefing.
Tests conducted on water in Lilongwe's high-density areas show that the commodity is unsafe for human consumption. The Lilongwe Water Board, which is mandated to provide safe drinking water in Malawi's capital, conducted tests on nine sampled shallow wells in three high density residential areas where results have shown that water was contaminated with faecal coliforms, a form of bacteria found in human or animal waste. The Board says the contamination was from pit latrines.
Malawi's Parliamentary Committee on Health, which has been visiting cholera treatment units across the country, found that it was challenging for communities to find clean water sources because kiosks and taps were dry in most residential areas.
"The Ministry of Water and Sanitation will be working with respective water boards and local councils to conduct water quality assessments and testing in targeted areas as well as distributing chlorine for water source and pot to pot chlorination, including in schools," said the Minister of Health Khumbize Chaponda in a statement released on 12 January 2023.
The Ministry of Water and Sanitation will now facilitate free water connections and provide safe drinking water through water bowsers in cholera hotspots in urban areas.
Health experts say the cholera outbreak in Malawi indicates that a lot needs to be done to tackle poor access to clean water, despite the country's 2022 Voluntary National Review on progress on implementation of SDGs, showing that Malawi is on track to meet the SDG6 target of universal access to water and sanitation for all by 2030. To date, 87.9% of the population have access to improved sources of drinking water and 80% of the population uses improved sanitation facilities such as decent toilets and handwashing facilities with running water.
Global Water Partnership Malawi Coordinator for the Global Water Leadership (GWL) Programme, Mrs. Deborah Muheka says the cholera outbreak is a wakeup call on the need to seriously question the interventions in the sector and whether these would withstand changing climatic conditions.
"The GWL program has identified lack of infrastructure investment and financing in the water and sanitation sector as one of the major challenges. With good water infrastructure, we would eliminate incidents of contaminated water. This is why GWP is currently working with the Malawi government and other stakeholders in the sector to identify strategies that would rectify this challenge," explained Muheka.
The GWL program has also identified weak coordination, policy enforcement, and regulation as a challenge in Malawi's water sector.
"People drill boreholes or dig shallow wells in urban areas where only the water boards are mandated to provide water. This is why we are having water contamination, since people are not observing the required distances between pit latrines and these water sources. There is a need to invest more in strengthened water resources management and WASH governance," said Mrs. Muheka.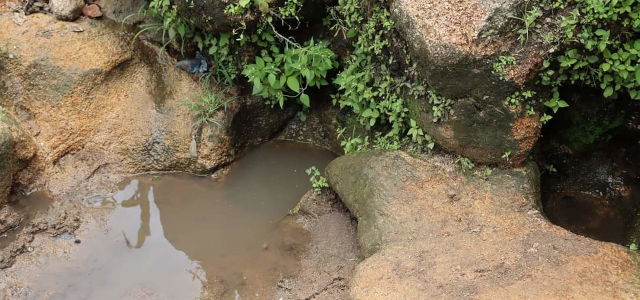 A well in a residential area in Lilongwe
A 2022 Snapshot of Malawi's Water and Climate Resilience Status developed by GWP and UNICEF under the GWL Program shows that public financing for recurrent water expenditure and development resources is low, affecting implementation of the country's WASH agenda. For instance, the WASH budget for the 2020/2021 budget was USD $88.2 million and mostly allocated to urban water supply.
"The Government of Malawi's allocations to WASH, as a proportion of the Gross Domestic Product, are also low compared to other countries in the region. Available data shows that the government's allocation of resources to WASH is 0.081% of the GDP, which is only 55%, 52 percent, 43%, and 23% of that allocated by Kenya, Zambia, Ghana and Mali respectively," reads part of the snapshot.
Financing in the water sector is generally low in most African countries, which is why the Continental Africa Water Investment Program is currently mobilizing at least USD $30 billion annually to meet Sustainable Development Goal 6. Currently only about USD $10-$19 billion per year is invested a water infrastructure. Over 300 million Africans do not have access to clean drinking water and over 700 million live without access to good sanitation. Currently, investments in water infrastructure and support services fall short of what is needed to meet the continent's economic and social needs.
Photo credits: Nation Publications Limited