Tanzania's progress in implementing Integrated Water Resource Management (IWRM) is now estimated to be at 54%, an increase from 50% three years ago.
This signals that the country has promoted the coordinated development and management of water, land, and other related resources – which is essential to maximising economic and social welfare for all, while minimising damage to the environment.
The improved outcome of 54% is due to Tanzania's improved capacity, participation and coordination at all levels and an improved enabling environment – with policies, plans, and laws in place to support IWRM.
The estimate of 54% is the main outcome from a multi-stakeholder consultation convened by the Ministry of Water and the Global Water Partnership Tanzania on 4 September 2020, ahead of reporting on IWRM progress to the United Nations later this year as part of Sustainable Development Goal (SDG) indicator 6.5.1.
The consultation brought together key stakeholders across government, the private sector and academia to undertake a survey to assess the status of IWRM implementation in the country. The participants assessed IWRM across four components:
Enabling environment: 60%
Institutions and Participation: 66%
Management Instruments: 46%
Financing: 42%
Dr. George Lugomela, Director of Water Resources in the Ministry of Water, said that the government had charted several strategies to ensure that the nation attains the SDG target 6.5 that seek to implement IWRM at all levels by 2030. "We have created forums. The national multi-sector programme on water resource management and water basin resources management under- stands that water resource is life," said the Director.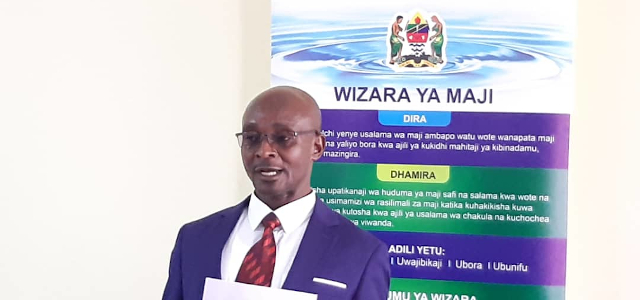 Dr. George Lugomela, Director of Water Resources
The Ministry of Water congratulated GWP Tanzania and the entire GWP organisation for the great support that they have provided to the water sector and the government at large.
The Tanzanian consultation forms part of the GWP SDG 6 IWRM Support Programme, which assists governments in designing and implementing country-led responses to SDG indicator 6.5.1. The Programme is part of the broader Africa Water Investment Program that GWP is implementing in African countries.
The SDG 6 IWRM Support Programme is implemented with the UN Environment Programme's guidance and coordinated by GWP in collaboration with UNEP-DHI and Cap-Net-UNDP.