Speaking during the 6th Zambian Water Forum and Exhibition in Lusaka Mr. Simalabwi said there was a ready market of commercial water companies in the country and across the region. He said the country was strategically located and had abundant water resources.
This week the International Monetary Fund (IMF) said that the near-term outlook for the Zambian economy has improved in recent months mainly driven by good rains and positive sentiments in the financial sector. IMF said a bumper harvest and increased hydroelectricity generation are expected to boost economic activity by more than previously projected.
Mr. Simalabwi said that Zambia has opportunities to emerge as a major food exporter to Eastern and Southern Africa and as a regional logistics hub. He said the country can also develop long-term competitiveness of local mining supply. He noted that opportunities for sustainable economic growth, employment and resilient societies are contingent upon the sustainable management of water resources and provision of water related services.
"Investing in water infrastructure and water jobs generate positive returns and have a multiplier effect on job creation across all economic sectors. Water scarcity and supply disruption limit economic growth and contributes to job losses but the transition to a greener economy enhances opportunities for decent jobs," Simalabwi noted.
Mr. Simalabwi said there is potential for water industry and job creation in manufacturing water equipment; designing and construction of water sewerage facilities; manufacturing, installation of water meters; manufacturing, supply of water treatment chemicals, sanitation and solid waste management; and water resources infrastructure development and management.
Mr. Simalabwi was echoing GWP-SA's repositioning to support the regional and continental industrialization agenda to promote water security as a key vehicle towards job creation.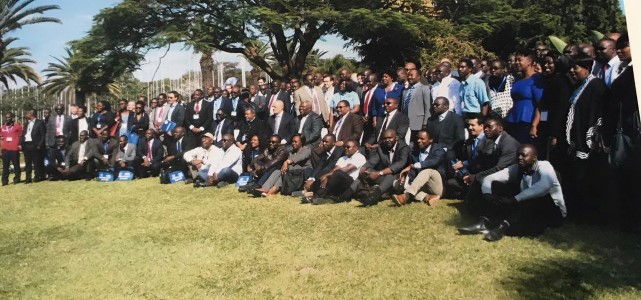 In 2015, Heads of State of SADC adopted an industrial development strategy to leverage the region's resources for sustainable development. The three-phase programme emphasizes efficient use of natural resources, value addition, diversification and competitiveness to propel the region into a High Tech industrial entity by 2063. The industrialisation strategy notes that through effective water resource management, industrialisation is achievable and will in turn create and sustain jobs.
The SADC industrialization strategy recognizes that water and sanitation development are among the critical ingredients of industrial development. Water demand will rise exponentially in response to industrial expansion and the related increase in income levels, a problem that will be exacerbated by climate change.
The industrialization strategy recommends fast tracking implementation of the SADC strategic water supply infrastructure taking into account the climate change impacts.
At the regional level, SADC Heads of state are leading the way by recognising water as a key ingredient for regional industrialisation, jobs and infrastructure investments. The SADC regional secretariat has created a new division for industrialisation. SADC countries are following suit. Zambia recently launched its job creation and industrialisation strategy.
This Simalabwi says is why it makes sense for GWPSA to build on its strong network, expand the partnership base, attract new partners with relevant expertise to support governments address jobs through improved water security.
The 6th Zambia Water Forum and Exhibition (ZAWAFE) seeks to raise awareness on some of the main implementation challenges related to the themes (Water, Sanitation and Hygiene, Water Resources Management, Water Quality and Risks) in relation to the targets recommended by the Open Working Group on Sustainable Development Goals and UNWater.
The other objective of the forum is to bring together various national, international stakeholders and experts, to discuss and share best practices on water management. The Forum also hopes to bring to the fore, water management approaches that are relevant and sustainable to the social and economic development of the country.
The Forum and Exhibition is open to the public; more particularly, practitioners in water, sanitation and hygiene, energy, livestock, agriculture and forestry practitioners, food security and climate change experts, academicians and researchers, planning and development practitioners, policy makers and civil societies.