This follows identification of three major barriers to Tanzania's quest to achieving the 2030 water and sanitation targets under the Sustainable Development Goals. The barriers were identified under the Global Water Leadership (GWL) Programme which GWP Tanzania is implementing. They include:
Low financial resources for investments in water resources to increase climate resilience
Insufficient measures for water resources conservation and protection against climate changes impacts such as poor water quality and declining water levels in river basins
A lack of capacity to manage water resources
Solutions to these challenges will be identified through working groups whose representatives have been drawn from a range of sectors such as government, private sector, educational institutions, developmental organizations, as well as non-governmental organisations.
The working groups are:
The Water Resources Investment for Resilience Working Group
Harnessing Technology and Innovation for Water Resources Conservation and Protection Working Group
Strengthening Institutions for Improved Water Governance Working Group,
These themed Groups will each handle one of the identified barriers.
Speaking at the launch of the Working Groups at Sheraton Hotel, in Dar Es Salaam recently, Permanent Secretary in the Ministry of Water, Eng. Anthony Sanga urged the Group members to bring together their knowledge and expertise to find lasting solutions to the challenges in the water and sanitation sector. The working groups have been formulated from an already existing National Multi-Sectoral Forum on water resources management and development.
"The goal of creating this forum is to bring together water resources stakeholders to discuss and share experiences and knowledge to improve our work to ensure the sustainable management of water resources for the development of the current and future generations, as the NMSF and working groups continue to meet and work towards resolving water sector's barriers, the Ministry of Water management will provide the necessary required support" explained Eng. Sanga.
He said finding solutions to challenges in the water sector was critical because sectors such as health, energy, and agriculture are heavily reliant on water to thrive.
National Development is dependent on water security - Eng. Anthony Sanga, Permanent Secretary in the Ministry of Water
"We all recognize the importance of water for humans, animals, plants and all living things in general. Likewise, social welfare, industrial development, production of electricity, agriculture, and livestock depend on the presence of sufficient water. That is why we say "Water is Life and Water is Economy." National Development is dependent on water security because water is an important link for all social, economic, and environmental sectors," said Eng. Sanga.
Chairperson of the NMSF, Eng. Mbogo Futakamba concurred with the Permanent Secretary that the water sector anchors the country's economy, hence the need to invest in it.
"Implementation and realisation of Tanzania's vision of an economy that is supported by industries is dependent on water, since electricity, which is an important component of industries, can be produced at lower cost using water. The ongoing construction of Julius Nyerere Hydropower plant at Rufiji River, which will produce more than 70% of the electricity, will require effective water resources management and collaboration among the sectors to ensure maximum utilisation of the benefits of the project," explained Eng. Futakamba.
Director of Water Resources Dr. George Lugomela believes that through the National Multi Sectoral Forum, the government will be well informed on the policies that would work for an effective and efficient water sector.
"This Forum is important as it is one way of implementing the National Water policy. We believe that through NMSF, we are going to get key inputs to inform decision making by the National Water Board which is responsible for advising the Minister of Water and other decision makers regarding water resources management and development," he said.
Global Water Leadership Country Coordinator Ms. Asha Msoka said the Working Groups will carry out their tasks for a period of 12 months.
"The plan is to have the working groups develop appropriate response strategies for the identified barriers by June 2023. The Global Water Leadership Programme is aspiring to support the NMSF and leave behind a legacy or model which can be used as they continue to resolve different issues that face the water sector. Water Resources Management and Development should follow a systematic and engaging approach whereby all-important stakeholders mutually identify issues and agree on how to resolve them" explained Ms. Msoka.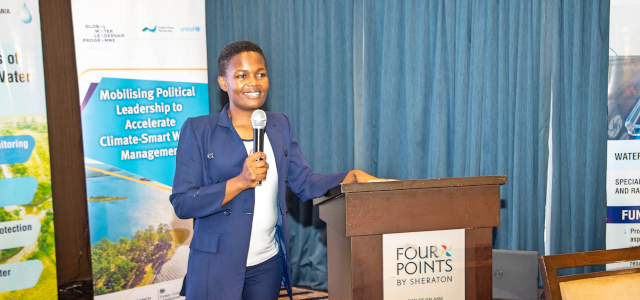 Mrs. Asha Msoka, GWL Tanzania Coordinator
Meanwhile, Executive Director of GWP Tanzania, Dr. Victor Kongo has assured stakeholders that the organisation would continue to support the water sector for improved livelihoods.
"GWP Tanzania will continue to support the sector through strategic planning and resource mobilisation. But there is a need for increased participation of NGOs in the water sector. The number of stakeholders from non-government sectors in the National Multistakeholder Forum (which is hosting the working groups) is still low," explained Dr. Kongo.
The Global Water Leadership Programme is being implemented in 10 countries: Tanzania, Malawi, Madagascar, Rwanda, Uganda, Central African Republic, Chad, Bangladesh, Nepal and the State of Palestine. The aim is to get poor and vulnerable people in low and middle-income countries to use resilient, safely managed WASH services for improved resilience, health, and well-being among poor and vulnerable people.
The Programme is implemented with support from the Government of the United Kingdom, through the Foreign and Commonwealth Office (FCDO).