This was according to Mr. Allan Dauchi, Chief Natural Resources Officer in the Climate Change Department in the Zambian Ministry of Ministry of Lands and Natural Resources (MLNR), during a Stakeholder Validation Workshop for NAP4CR on 14-15 October 2021 in Chisamba, Zambia. Mr. Dauchi was delivering opening remarks on behalf of Mr. John Msimuko Permanent Secretary in the Ministry of Green Economy and Environment.
"Through the NAP4CR project, the Government of Zambia will formulate a medium- to long-term climate adaptation plan and develop prioritized adaptation actions with financing strategies," said Mr. Dauchi.
"This will enable Zambia to systematically advance the implementation of priority adaptation actions contributing to the implementation of Zambia's Nationally Determined Contribution and the 7th National Development Plan."
As part of the inception phase of NAP4CR which ran during 2021, the MLNR commissioned consultants to review existing tools for integrating climate change adaptation into plans, budgets, monitoring & evaluation systems, as well as review and report on climate change adaptation and develop policy guidelines to incentivize investment in adaptation.
The ministry also commissioned consultants to document good practice in integrating climate change adaptation in planning and implementation of adaptation actions, and to facilitate development of the NAP Communication Strategy.
The outputs of these consultancies were validated during the hybrid Stakeholder Validation Workshop for NAP4CR, which was convened by the MLNR, with support from GWPSA.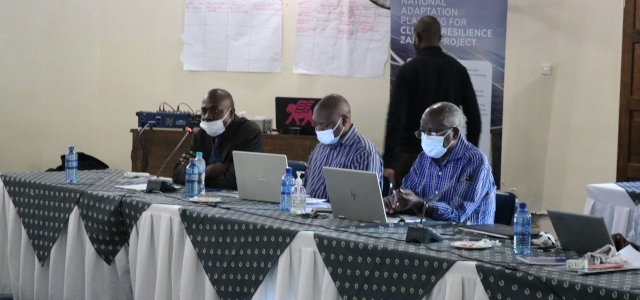 Speakers at the NAP Validation Workshop (Left -right) Mr Allan Dauchi, The Chief Natural Resources Officer, Mr. Joseph Mbinji – NAP Project Manager and Mr Andrew Chitembo, an independent Consultant
The NAP4CR project is being implemented in Zambia over a 2 year period from 2021 to 2023 through a USD 2,184,555 grant from the Green Climate Fund (GCF) as part of the GCF Readiness and Preparatory Support Programme (the Readiness Programme).
Zambia's gender-sensitive NAP is being developed by a Project Implementation Unit (PIU) within the MLNR's Climate Change and Natural Resources Management Department.
Global Water Partnership, as a development partner is assisting the Zambian Government with technical and implementation support through Global Water Partnership's Southern Africa Regional Office (GWPSA) as part of the Continental Africa Water Investment Programme (AIP)'s Support Programme on Water, Climate, and Gender Transformative Investments (WACDEP-G), in collaboration with the Zambia Water Partnership.
Photo credit Daily Times