The Virtual Workshop on Strengthening CWPs Capacity for Implementation of AIP And GWP Country Work Programs, took place through the Strengthening Regional Operations and Network Growth (StRONG) Programme.
"The workshop also served as a preparatory platform for the High-Level Water Investment Stakeholder Conference and GWPSA-Africa Consulting Partners Meeting which will be hosted by H.E. Dr Hussein Ali Mwinyi, President of Zanzibar, and H.E. Jakaya Mrisho Kikwete, GWPSA-Africa Coordination Board Chair and former President of Tanzania on 16-17 December 2021, at the Melia Hotel, Zanzibar," said Mr. Alex Simalabwi, Executive Secretary at GWPSA..
The regional CWP workshop will further provide a platform to update countries on the development and implementation of the Continental Africa Water Investment Programme (AIP) and the AIP Water Investment Scorecard .
"The GWPSA regional secretariat is supporting CWPs in the process of establishing their structures towards accreditation in three stages," said Mr Remigious Makumbe, Special Advisor at GWPSA.
Stage 1 focuses on setting up a steering committee for the Partnership to undertake mapping and mobilisation of potential EWP partners, identify potential members and sound them out in terms of interest in joining the Partnership.
Stage 2 operationalizes the CWPS through facilitating registration of new members with GWPO, identifying an AIP Programme of implementation by CWP and convening a First Annual meeting of the Partnership.
Stage 3 outlines critical steps towards the final preparation for CWP Accreditation including completion of the CWP Constitution, CWP AIP Work Plan, Host Agreement, List of EXCO Members, List of Registered Consulting Partners, and Letter Requesting Accreditation to GWPO. ​
To date, Southern Africa has a total of 403 partners registered with GWPO, 32 of them having been registered in 2021, from 330 partners 3 years ago. A huge milestone has been the accreditation of Botswana, Lesotho, Zambia, Zimbabwe, following the accreditation of Tanzania. Namibia and Eswatini are in the final stages of attaining accreditation, while work is underway to the relevant accreditation documents for Malawi to be submitted to GWPO. Efforts are under way to work with, Angola, Mozambique DRC and South Africa to operationalise their partnerships and ultimately take them through the process of accreditation.
Dr Victor Kongo, the Executive Director of GWP Tanzania presented a case study of Tanzania on Strengthening CWP Operations and Network Growth (StRONG). The key points from this case study presentation showcased that, for CWPs to achieve their set goals, there is a need for instituting ownership, identity, sustainability, and leadership while also including strong CWPs champions at a country level.
GWPSA Board vice chair, Eng. Munashe Mvura announced that the GWPSA Board has established the GWPSA Non-Profit Company (NPC) in Botswana as a Special Purpose Vehicle (SPV) to support GWPSA and CWPs in the mobilisation of financial resources. CWPs are encouraged to adapt the NPC Policies as part of their institutional strengthening.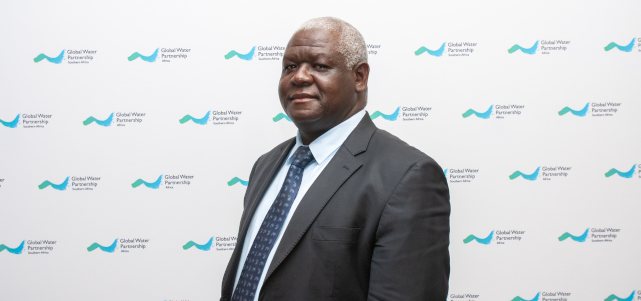 GWPSA Board Vice Chair, Eng. Munashe Mvura
All CWPs are invited to attend the 15th edition of the biennial GWPSA Consulting Partners (CP) meeting that will be held on 16 December 2021, consecutively with the High-Level Stakeholder Conference on the AIP Water Investment Scorecard in Zanzibar, United Republic of Tanzania.