Main objectives of the seminar were to,
a) provide a knowledge platform to learn, share and disseminate experience and information on local adaptation and resilience of the irrigation systems
b) understand the social, institutional, economic, financial and technical innovations in resiliently managed adaptation of the irrigation system
c) deliberate on the framework to assess the climate change impact for right innovative adaptation and a dynamic mix of organization and environmental resilience for the evolution of the irrigation system, and
d) make the policy makers, practitioners, researchers and observers of irrigation systems to be adequately informed about the process of adaptation and associated resilience of irrigation community and pursue and push for a learned framework that better serves farmers' irrigation interest and capacity enhancement in the changing climate context.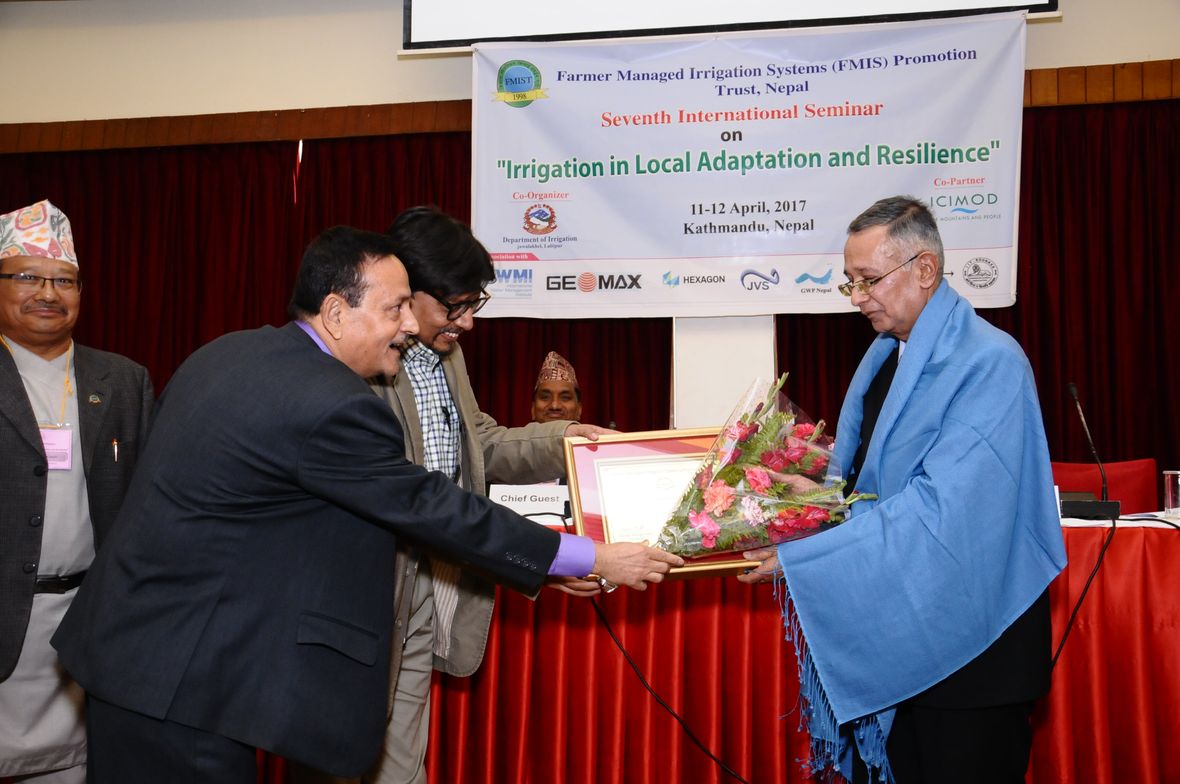 Dr Upendra Gautam, Treasurer GWP Nepal/JVS was honoured by the FMIS Promotion Trust's Icons of Honour: 2017 by Mr Ramanand Prasad Yadav, Secretary, Ministry of Irrigation, Nepal at the innaguration. There were four types of papers - keynote speeches, research papers, invited papers and individual country papers. Altogether thirty papers were presented and more than 150 people from different countries attended the seminar. GWP Nepal/JVS contributed financially and technically while one of the keynote speakers were Dr Gautam. Mr Somnath Poudel and Ms Anju Air presented the paper entitled 'Impact of earthquake on water resources in selected earthquake hit areas'. Mr Surya Nath Upadhyay, Secretary General and Mr Somnath Poudel, Vice-Chair, GWP Nepal chaired the sessions on 'Water-Energy Benefit Sharing' and 'MUS: Challenges and Application' respectively. Dr Anjal Prakash, Gender Focal Point, GWP SAS discussed on Masculinity in Irrigation: Imperatives for Gender Transformative Decentralised Water Governance. Moreover, Dr Keshav Sharma and Dr Khem Raj Sharma, active members of GWP Nepal presented papers on Climatic trends with reference to small irrigation management in Nepal and Climatic Resilience and Performance of Chapakot irrigation system respectively.