A group of 85 technical experts representing government administration, civil society, industry, research and media participated the workshop. The two main purpose of the workshop were sharing knowledge and experience gathered by various organizations during their research studies and/or fieldwork. This shared knowledge would assist in preparing an integrated River Basin Master Work Plan by Nirmal Hindon Initiative (NHI). Secondly, the brainstorming sessions of stakeholders provided inputs to design roadmaps for the next couple of years based on five specified verticals: afforestation, ponds and wetlands, green agriculture and organic farming, waste management and participation and governance.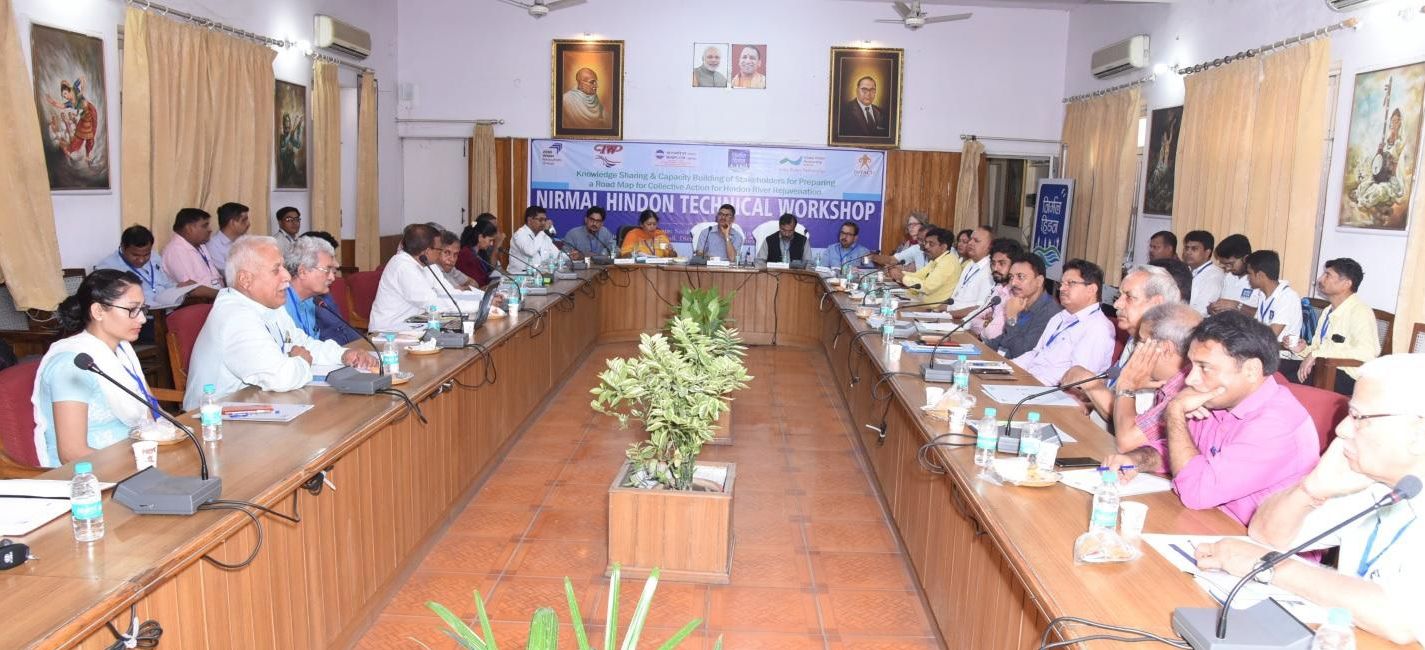 The workshop consisted of three sessions, inauguration, brainstorming and the plenary. With the completion of the group discussions on the five priority areas identified by NHI, Dr Prabhat Kumar, IAS, Commissioner, Meerut Division who has been carrying the limelight of revival of Hindon River and its tributaries initiative gave his concluding remarks. "If we really want to convert this polluted drain to a Holy River we need to restructure our approach – from I to we and campaign to developing mind-set/culture". The roadmaps aligned to the five verticals created during the workshop will be presented for approved at the next NHI committee meeting.
Background
Hindon/Harnandi River is one of the major tributaries of Yamuna River has become the most polluted tributary in recent past due to various human interactions such as dumping garbage and untreated water into the river. On top of it, the climate invariability coupled with uncertainty in rainfall have accelerated it by further deteriorating the conditions. Consequently, the environmentalists and media started criticising about the adversities of the river and its surroundings. In response, many groups and individuals have attempted to save the river from pollution. Dr Prabhat Kumar, IAS, Commissioner, Meerut Division (one Division out of the 18 in Uttar Pradesh a state in northern India) is one of the pioneers who has taken up the issue as a top priority and taken measures along with the Line Departments in the Division and citizen groups to revive Hindon River. In 2016, the 2030 Water Resources Group and IWP brought together stakeholders across the Hindon River basin, to develop a collective approach to river rejuvenation. A comprehensive River Basin Master Work Plan is now being developed by the secretariat of the Nirmal Hindon Initiative, to facilitate implementation of an integrated rejuvenation programme of river Hindon and its tributaries. INTACH's Natural Heritage Division has attempted to put together a comprehensive fact base compiling available data on the status of the Hindon basin from an integrated river basin perspective. A summary of the report was presented at the technical workshop.