The Hindon Mela was organized at the Office of Divisional Commissioner Meerut, graced by Dr Prabhat Kumar, I.A.S, Honourable Divisional Commissioner and Shri Radheshyam Mishra, I.A.S, Additional Divisional Commissioner, Meerut Division, Uttar Pradesh in India. Altogether 75 participants including Gram Pradhans, District Authorities, Teachers, civil society representatives and students were among the audience.
The final round of inter-district level Hindon Quiz was held on the day among six schools namely; Amar Shahid Shambhu Singh Inter College (Maheshpur), Maharana Pratap Memorial Inter College (Shimlana) in Saharanpur; Netaji Subhash Chandra Bose Memorial Inter College (Tavelagarhi) and Ved Vidya Mandir Inter College (Lalyana) in Baghpat; and Gandhi Vidyalaya Inter College, Rawli and Nehru Smarak Vidyalaya (Surana) in Ghaziabad. The questions mainly focussed on measuring their knowledge and understanding about water, its conservation, climate change and its impact on human beings, other living creatures and the natural resources. The winning trophy was lifted by students of Gandhi Vidyalaya Inter College, Rawli, Ghaziabad District.
The Inter-district Quiz competition was consisted of three rounds, first the intra-school, then inter-school and finally inter-district level. Around 600 students across six Gram Panchayats had participated in the quiz. The Gram Pradhans (Village Heads) of participating villages and Principals of participating schools were also felicitated on the day for their contribution towards to quiz.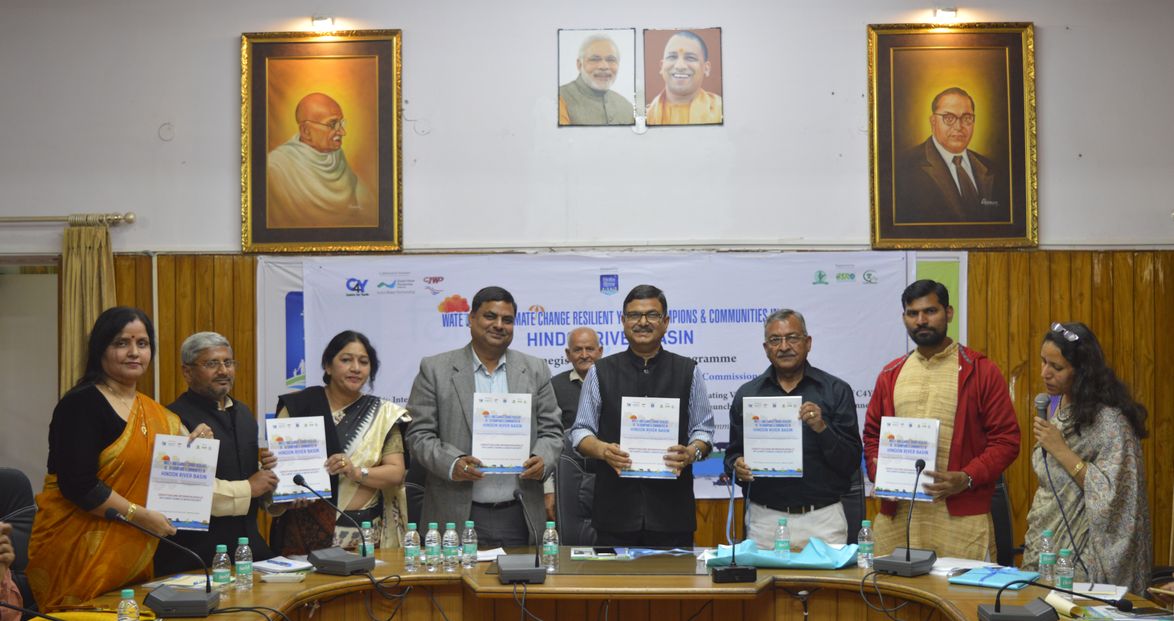 Afterward, the capacity building modules and information booklet on Water Security and Climate Change written in both Hindi and English, prepared by India Water Partnership (IWP) with support of Centre for Youth (C4Y) were released by Dr Prabhat Kumar, I.A.S, Honourable Divisional Commissioner, Meerut. The booklet focuses on Climate Change and Water security that serves as a training and capacity building module for training five different sets of stakeholder groups including students teachers youth women and farmers. The booklet provides basic facts about climate change, its implications on human health, livelihood, lifestyles, and biodiversity, its adaptation and mitigation and innovative concepts like energy conservation and renewable energy emphasising on natural resources conservation. At the session on water security, it illustrates what is freshwater and causes of water stress, its impacts and solutions.
Nowadays the social media plays a significant role in disseminating knowledge and information especially among youth. "The Hindon Voices Channel" on YouTube, is being developed with nearly 50 videos depicting voices of its stakeholder groups including students, teachers and social workers, farmers and women was launched on the day by the Honourable Divisional Commissioner, Meerut. These videos are a defining record of a cross-section of the Hindon Basin dwellers on their concerns related to the river and the changes that they are willing to make and also about the training programmes. The Water and Climate Change Resilient Youth Champions and Communities facebook page encapsulates through the intervention from inception to final Hindon Mela.
Dr Prabhat Kumar speaking on the occasion urged children for taking pledge to keep the river Hindon and its surroundings clean and also to carry the message to their parents and community. Shri Radheyshyam appreciating the active engagement of youth in the campaign mentioned, "Hindon River has been our lifeline for generations and it is our duty to keep the river clean by allowing the next generations to get similar benefits". Dr Veena Khanduri, Executive Secretary-cum-Country Coordinator, IWP reminded the key objective of the programme - to generate and communicate knowledge in Hindon Basin on safe drinking water, water security, and climate resilience and show why and how maintaining the good health of the River is linked to their social, economic, and physical well-being.
Background
Hindon River, one of the major tributaries of Yamuna River has become the most polluted tributary in recent past due to various human interactions such as dumping garbage and untreated water into the river. On top of it, the climate invariability coupled with uncertainty in rainfall have accelerated it by further deteriorating the conditions.
IWP working with Hindon multi-stakeholders realised that there is need to adopt integrated strategy to bring about changes in the attitude and behaviour of people around the basin to make the river pollution free. IWP with support of its network partner; Centre for Youth (C4Y) and under the mentorship of Nirmal Hindon Initiative has taken up the challenge to revive the River through Water Resources Management approach through water and climate change resilient youth champions and communities in Hindon River basin programme since 2017. Youth as the most vibrant and dynamic stakeholder group, were selected as the targeted group for the intervention. The programme was carried out in three districts of Uttar Pradesh namely Saharanpur, Baghpat, and Ghaziabad along the Hindon river basin.
The objective of the programme was to generate and communicate knowledge in the Hindon River Basin on safe water, water security, and climate resilience.
The Collaborative Programme engaged around 1000 stakeholders. It was implemented in the six Gram Panchayats (GPs) of three districts namely Maheshpur and Shimlana GPs of Saharanpur district, Lalyana and Tavelagarhi GPs of Baghpat district, and Surana/Suthari and Rawli GPs of Ghaziabad district. Inter-district Hindon Quiz was part of the overall programme held with the participation of six schools across six Gram Panchayats. Five different levels of stakeholders were engaged vibrantly in the capacity building workshops held on water security and climate change that constantly linked to issues related to Hindon River. The trainings conducted using different tools, games, role-plays, group activities and flipcharts were a new experience to the participants and enhanced their interaction. The programmes were mostly focused on women, youth and farmers as they are the change agents for positive behaviour at household level as water security has the biggest impact on their lives. Teachers have highly recommended the capacity-building module to be used to train students in respective schools.
Outputs and outcomes:
- An integrated-handy training module is ready with full of information, fun and with interactive games which can be reused to upscale the programme in the another districts, along the banks of River Hindon.
- Farmers have started realising the importance and ways to extract groundwater using submersibles pumps with utmost care without competing with each other - as the water table in the region is depleting.
- Approximately 160 youth from six GPs in three project districts were trained as Hindon Youth Champions of Change (HYCC).
- Trainings have been imparted to more than 100 women on water security and climate change.
- Nearly 100 farmers have been empowered with water conservation techniques and alternative farming methods to adopt and mitigate to climate change and water stress.
The way forward
IWP and C4Y would replicate the initiative further to two districts, Meerut and Shamli Districts of Hindon River basin in 2018.