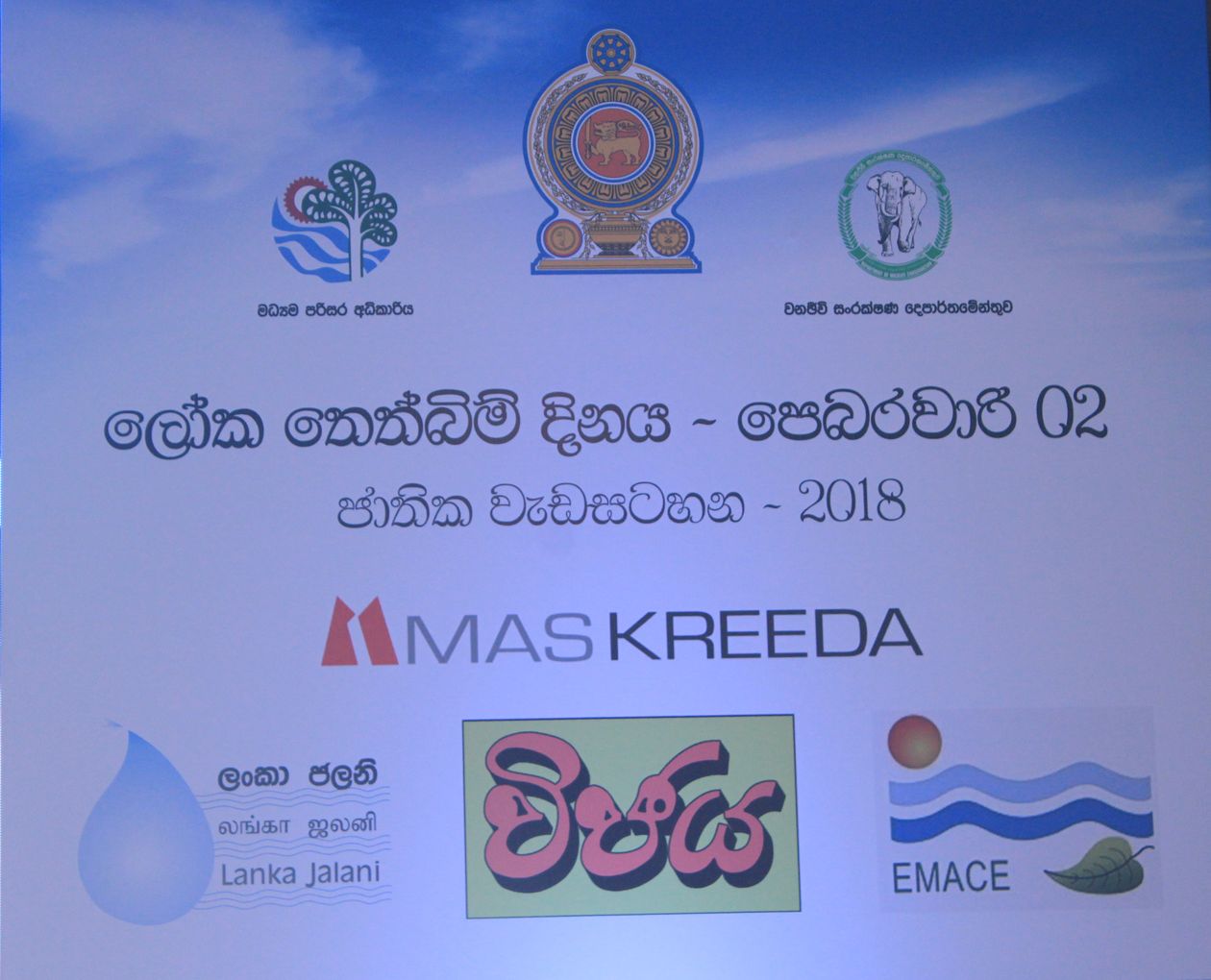 The national event was held in Colombo graced by His Excellency the President Maithripala Sirisena and Champika Ranawaka, Honourable Minister of Megapolis and Western Development. This is the third consecutive year where SLWP collaborated with Central Environment Authority (CEA) for organising the national programme. The programme was co-organised by the Department of Wildlife Conservation and few other companies namely, MASKREEDA, Wijaya Newspapers and EMACE Foundation.
The theme for World Wetlands Day 2018 was "Wetlands for a Sustainable Urban Future" which was elaborated by Prof Dewaka Weerakoon from University of Colombo at his keynote speech. The beauty in wetlands book, which was initially written in Sinhala and was translated to Tamil with the support of SLWP, published by the CEA was presented to the President on the day. The next important event was rewarding the winners of inter-university photographic exhibition on wetlands in Sri Lanka.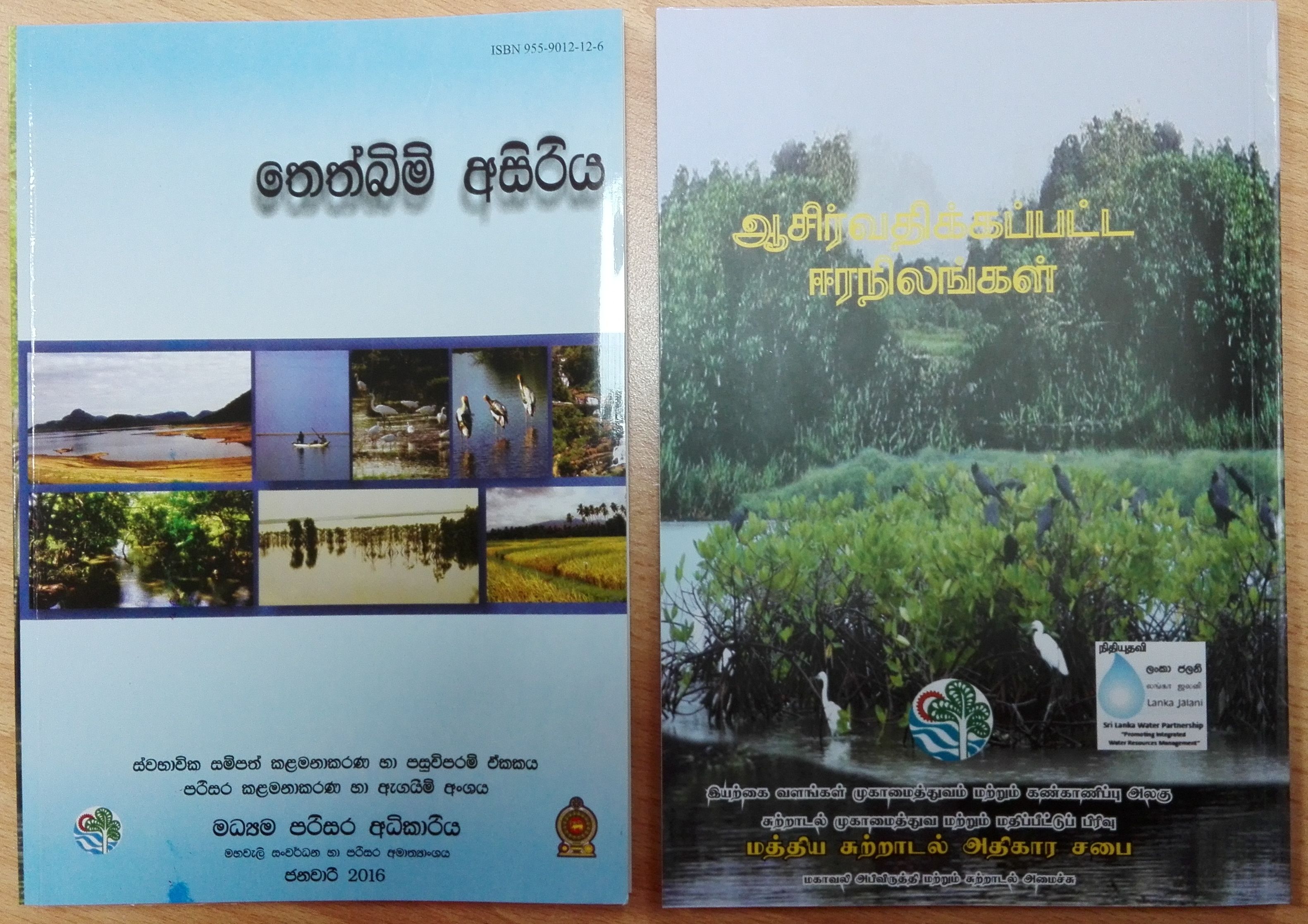 Groups of singers sang the "environment song" and the "wildlife song" which especially composed to signify the importance of protecting the biodiversity in Sri Lanka while the other performances held in-between the speeches gave life to the event. Nearly 200 attended the programme including, schoolchildren, universities and high-level officials from the government.
After successfully concluding the programme, Priyangani Gunathilaka, Acting Director, Natural Resources and Catchment Programme, CEA citing SLWP's collaboration mentioned, "We highly appreciate SLWP's willingness to partner with CEA in organising the national programme to celebrate World Wetlands Day. We are having a long standing relationship with SLWP and are collaborating on safeguarding the country's natural resources through programmes on preventing illegal sand mining and catchment conservation".
SLWP's contribution on the national programme is only a part of its Core Activity, activities on Urban Wetlands including Bolgaoda and Thalawatugoda Wetlands. Furthermore, their interventions on urban wetlands goes back to early 2000.
SLWP's work on Urban Wetlands
By recognising the importance of wetlands especially in the urban settings, SLWP launched a programme to conserve wetland ecosystems, which was coordinated by Prof Deepthi Wickramasinghe from the University of Colombo. In 2012, a team of researches of Universities of Moratuwa and Colombo held stakeholder meetings, a wetland mapping exercise and awareness raising among students on Kollonnawa Wetland in the Western Province. In 2013, by recognising the urgency of conserving these ecosystems, SLWP played a leading role to conserve the Bolgoda Wetland and partnered with central, and local governmental agencies as well as with citizens groups. The activity established the links between decision makers, members in the local government and the community and facilitated discussions. Establishment and registration of six Environmental CBOs under CEA and enabling community reporting of environmental issues related to wetlands was another achievement of this initiative.
Since then, SLWP continued the Bolgoda Wetland conservation activities through interactive seminars and awareness raising campaigns targeting youth and strengthened its partnership with CEA, Urban Development Authority, Sri Lanka Land Reclamation and Development Corporation (SLLR&DC) and the 2 universities. They have also developed Sri Lanka's first newsletter on wetlands targeting schoolchildren. One salient feature of this programme is, it focuses on different stakeholder groups namely decision makers, regulators, private sector, non-governmental organisations (NGOs) and especially the schoolchildren.
In 2016, SLWP launched a pilot project 'Our Wetlands-Our Future': A Conservation programme for the Bolgoda Wetland complex with the collaboration of Biodiversity- Sri Lanka and Sampath Bank. The two-phased project conducted stakeholder consultation workshops to enhance community participation for wetland conservation and awareness raising and completed a Vulnerability Assessment and Biodiversity Survey on the Bolgoda wetland complex. Suggestion for new investors on wetlands derived from the project is, formulate and strengthen the capacities of Community Based Organisations in association with CEA to conserve urban wetlands – restoration of polluted and maintain the pristine wetlands.
In addition, SLWP collaborated with SLLR&DC to organize the inception programme on "Promoting Colombo as 1st wetland city" of the world, with the participation of members of government and corporate sectors, Universities, NGOs and youth groups in 2017. This consultative workshop generated relevant documents to be submitted to the Ramsar Secretariat to claim the title. The project continued with a research on "Bio-indicators in urban wetlands" that led by Prof Wickramasinghe with the objective of making the general public aware as to how to use dragonflies as bioindicators of wetland health.
World Wetlands Day Celebration: 28 February - 2March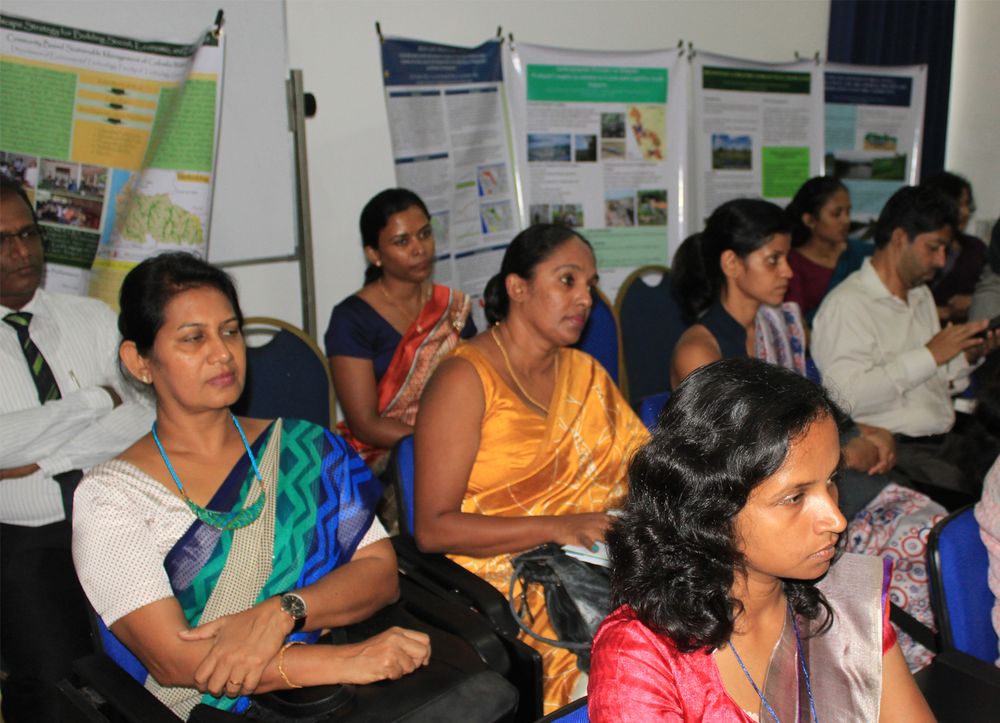 Aligned to the research "Bio-indicators in urban wetlands", SLWP participated on World Wetlands Day celebration organised by SLLR&DC held from 28 January to 2 February at Sri Lanka Foundation Institute. The event comprised of a poster exhibition and seminars where SLWP presented a poster based on the research findings undertaken in Bolgoda wetlands as well as an awareness poster on bioindicators
"It is our strength that the partners and collaborators have recognised SLWP as an important contributor to the water sector. Although it is evident that the stakeholder interests are conflicting and competing across many levels, and call for dedicated efforts and untiring follow up are essential to achieve the multi-stakeholder approach for conserving urban wetlands, SLWP has still prioritised urban wetland conservation in its workplan," said Ranjith Ratnayake, Country Coordinator, SLWP.