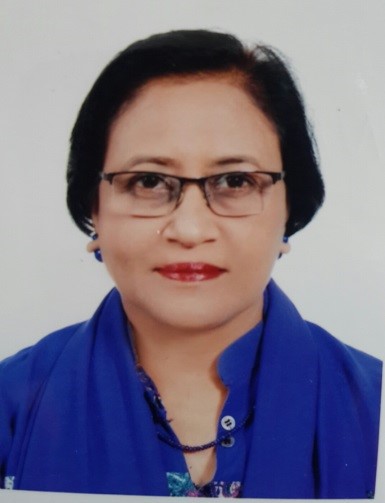 As a water resource planner, Dr Nilufa carries 32 years of experiences in the water sector and currently holds the position of Honourary Vice President of GWP Bangladesh. She is a Syndicate Member of Barishal University of Bangladesh since 2018 and a member of Global Advisory Panel for REACH – Improving Water Security for the Poor, University of Oxford, UK, from 2017.
Dr Nilufa being the first Female Chair of GWP South Asia obtained her Ph.D. on Environmental Sciences from the Griffith University, Australia. Further, she carries a post-graduate diploma in Soil Science from the Agriculture University of Norway, MSc in Soil Science from University of Dhaka and a B.Sc. (Hons.) in Soil Science from University of Dhaka, Bangladesh.
More than three decades of her experience in the water sector as an Executive and Advisory Committee member of several Research and Academic Institutions can be listed as follows.
Reviewed and assessed early stage of "REACH Bangladesh Country Work Plan, 2016-2019", a Programme of University of Oxford, UK
Regional Council Member of GWP South Asia from 2014-2015.
Preparing Country Level Water SDG Study of Bangladesh for United Nations University of Canada, in 2014.
Worked for Water Resources Ministry of Bangladesh since 1982 to 2014.
Syndicate member of Bangabondhu Science and Technology University, Gopalgonj from 2010-2014.
Prepared Guidelines for Environmental Assessment of Water Management (FCDI) Projects under the Project to integrate the environmental component into the planning process of National Water Management Plan (NWMP), Bangladesh.
Coordinated the Sectoral report of Water, Coastal Area, Natural Disaster and Health under National Adaptation Programme of Action (NAPA), 2005. A member of the main NAPA team, Bangladesh.
A member of Executive Council of WARPO
A member of Research and Academic Committee of Institute of Water and Flood Management, Bangladesh University of Engineering and Technology (BUET)
A member of Research and Advisory Committee (RAC) of Crossing Boundaries - Regional capacity building on IWRM and gender and water in South Asia project, IWFM, Bangladesh University of Engineering and Technology (BUET).
Dr Nilufa has been recognised as one of the women water professionals from the five South Asian countries in 2010 by SaciWATERs. She attended several conferences and seminars in and outside of Bangladesh at the capacity of a panellist and co-chair of sessions. She also received training courses on Integrated Water Resources Management (IWRM), water resource planning, climate change and EIA. She also privileged to travel in Europe, Spain, Netherlands, Sweden and UK; in Asia, Japan, South Korea, Thailand, Philippine, Sri Lanka, Bhutan, Nepal and China; Africa, Kenya and Ethiopia and USA.
Dr Nilufa, by offering her dedicated support to GWP South Asia Team said, "I look forward working together with you during my tenure and continue the good work carried out by you with the guidance of our beloved late Dr Khondaker Azharul Haq".