The National Consultation on the post-2015 development agenda organized by CWP-Kazakhstan jointly with the Committee on Water Resources of the Ministry of Agriculture of the Republic of Kazakhstan was held on 4 March 2016 in Astana.
The main aim of the National Consultation was to inform decision-makers and the general public about new sustainable development agenda of the United Nations summit held in September 2015, as well to develop concrete proposals on implementing the National program of water resources management of Kazakhstan as of 4 April 2014.
CWP-Kazakhstan Chair Prof. Nariman Kipshakbaev made presentation "Post-2015 Sustainable Development Goals". He emphasized that besides 17 SDGs in the 2030 Agenda for Sustainable Development there were defined 169 complex tasks related to sustainable development. He talked about Goal6 "Ensure availability and sustainable management of water and sanitation for all" in detail.
The meeting was attended by representatives of ministries, departments, basin inspectorates, international and public organizations and by independent experts (total: 36 people, including 31% women).
Participants adopted a number of decisions. The following decisions were the most important:
- the Committee of Water Resources and all the basin inspectorates have to intensify communications with the Government, ministries, akimats (local administrations), water users and the public, explaining importance of water for the economy, health care and the environment; as well informing about the speech of the President of Kazakhstan at the UN General Assembly and the GWP approach as a way which demonstrate dependence of future development of Kazakhstan on water resources and water bodies.
- Advise to CWPs in CACENA to use their experience and knowledge for development of Roadmap on water bodies protection to achieve SDGs at the national and regional level.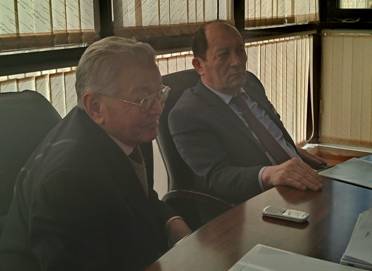 Mr. Islam Abishev, Chairman of the Committee on Water Resources of the Ministry of Agriculture of the Republic of Kazakhstan (on the right) and Prof. Nariman Kipshakbaev, CWP-Kazakhstan Chair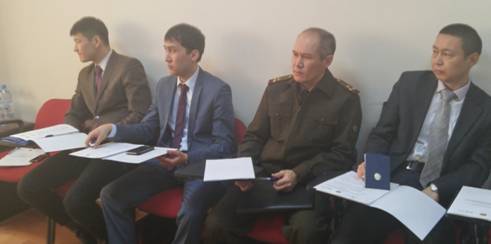 Representatives of various ministries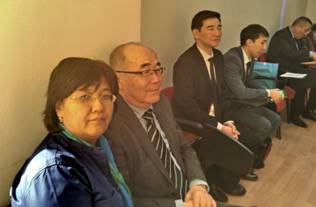 Participants