The event was hosted by the National Administration "Romanian Waters" and supported by the Danube Water Program (DWP, jointly implemented by IAWD and World Bank), the EUSDR PA4, the Global Water Partnership, the EIB, both Directorates General ENV and JRC of the European Commission.
This initiative answers to the countries of the Danube River Basin that have expressed their need to more specifically deal with the multi-dimensional problem of the wastewater management under the ICPDR's umbrella. The workshop aimed at bringing together the administration (national and local authorities) and utility sectors together with all relevant stakeholders for joint discussions on the following three pillars:
Investment & Financing
Management & Operation
Innovation & Technology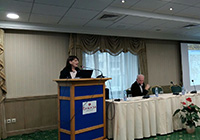 Marta Korchemlyuk of MAMA-86, host of GWP Ukraine, presented experiences with sustainable small-scale sanitation solutions in Ukraine. The first dry ecosan toilet for a rural school in Poltava region, Ukraine was built by MAMA-86 and Women in Europe for a Common Future, in cooperation with experts from Technical University Hamburg.
Fabio Masi of IRIDRA Engineering presented results of a case study from Slovenia, supported by the EU Joint Research Center. IRIDRA partnered with GWP Central and Eastern Europe and Water Science Institute to analyze all relevant dimensions of practical solutions for innovative wastewater treatment. The results showed advantages of decentralized solutions in mountainous areas with individual houses and villages.
During the working group discussions focused on investment, management, and technology, the participants identified the need for capacity building, advisory to local municipalities, vocational training and young professionals in the future.
More information on ICPDR's website.