At the Anniversary meeting, Mr. József Gayer, President of the Board of Trustees, summarized the past 15 years and presented GWP Hungary's future plans. Among its recent achievements, he mentioned having a GWP delegate as vice chair in the National Water Council, contributions to the national water management strategy, the role of GWP Hungary for the drought management developments in Hungary, the SDG Preparedness Facility Program, and many others.
GWP Hungary has also played a significant role in the field of water education and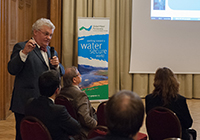 youth involvement in Hungary. The foundation has been organising the Danube box competition since 2008, Danube Art Master competition, and has largely supported Danube Day celebrations. GWP Hungary was the main organiser and coordinator of the Youth Forums at Budapest Water Summit in 2013 and 2016. In 2013, Hungary has joined the Stockholm Junior Water Prize (SJWP) competition. In agreement with the Stockholm International Water Institute (SIWI), GWP Hungary Foundation is leading the competition in Hungary, having H.E. János Áder President of the Republic as its patron.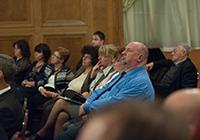 At the Anniversary meeting, Mr. András Almássy, a project manager presented the SDG Water Preparedness Facility Program, its activity plan, targets, importance as well as its expected outcomes. Furthermore, Dr. Gábor Kisvárdai, a representative of the Hungarian Energy and Public Utility Regulatory Authority and Mr. Balázs Heincz from the Ministry of Foreign Affairs and Trade also took the floor and assured GWP of their continuous support. Prof. András Szöllősi-Nagy, Chair of the Intergovernmental Council of the UNESCO-IHP congratulated GWP Hungary for all activities during these 15 years and highlighted the significant role it has in reaching the SDG 6. All participants of the Anniversary meeting assured GWP Hungary of their support in the future and spoke positively about GWP's commitment to water-related activities and water awareness.