Continuing with the implementation of the action plan agreed in July 2015 during a consultation workshop organized in the framework of the initiative "La Jeunesse Francophone pour l'eau" [Francophone Youth for Water] of the Global Water Partnership (GWP) and the Office Franco-Québécois pour la Jeunesse (OFQJ) to mobilize youth in nine francophone countries on water resources management and climate change adaptation, as well as the BeWater Project's involvement with the Tunisian youth, an Open Day was organized by the Global Water Partnership - Mediterranean (GWP-Med) and the youth NGO "We Love Zaghouan" to promote both initiatives to a wider audience, as well as to raise awareness on water and climate change issues.
The action plan included i) awareness raising activities aimed at civil society, ii) a capacity building program addressed to youth NGOs, iii) the organization of a youth network on water resources management. Thus, with regards to the first point and following awareness raising activities targeting schoolchildren via the ÔVI campaign (eau=vie / water=life) in February-March 2016, and a workshop on "Water, Youth and Employment" to celebrate the World Water Day in March 2016, the Open Day on "Society, Youth, Water & Climate Change Adaptation" was organized on May 22th, 2016 in the historical monument "Le Temple des Eaux" in Zaghouan, Tunisia gathering representatives of local administration and NGOs, as well as broad public, among which many children.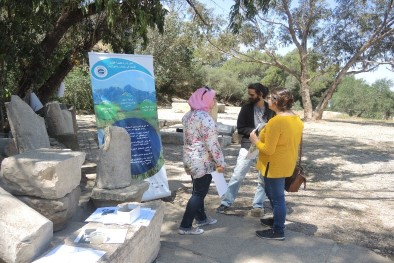 There was an exhibition of roll-up banners, brochures and other relevant communication material explaining the added value of the BeWater Project's contribution at the Rmel watershed in the governorate of Zaghouan. The team invited the public to react on the water management adaptation options proposed by the project ranking them according to priority order.
The floor was given to the public to speak on the current water situation in Tunisia and particularly in Zaghouan, while they also had the opportunity to ask questions directly to the regional representative of the Ministry of Agriculture (Regional Committee of Agricultural Development of Zaghouan). There were also interactive, awareness raising activities organized for the children, with material provided for drawings and short descriptions in relation to water scarcity issues.