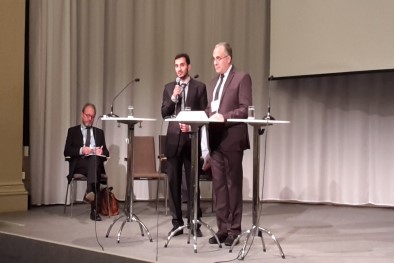 This session, co-convened GWP-Med and the Federal Institute for Geosciences and Natural Resources (Bundesanstalt für Geowissenschaften und Rohstoffe – BGR), opened and set the stage for the "MENA Focus" highlighting the current challenges & opportunities in the water sector.
On the one hand, the MENA is among the most water scarce areas in the world, challenged by natural conditions, including extreme events and climate change. On the other hand, the MENA is a unique geographical, ecological, geopolitical and cultural mix, a rapidly changing world, a region challenged by demographic change, unemployment, poverty, enduring economic crisis and socio-political instability, conflicts and large-scale migratory movements, changing consumption patterns, urbanisation, rising water and food demands, growing energy needs, environmental degradation, gender disparities and more.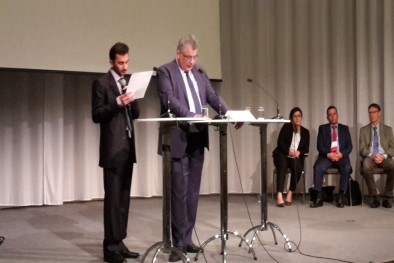 The session begun with high level targeted interventions from: H.E. Dr. Mohamed Abdel Aty Sayed Mohamed, Egyptian Minister of Water Resources and Irrigation, H.E. Mr. Mazen Ghoneim, Minister, Palestinian Water Authority and Mr. Mats Karlsson, Director of the Swedish Institute for International Affairs. The speakers provided insights, based on their experience, on the arduous situation in the MENA, but also on potential ways forward, stressing in particular the role of regional cooperation.
Special focus was then attributed to the refugee crisis, not only in terms of the needed infrastructure and resources, but also in view of the human right to water and sanitation. The example of Jordan was showcased. Considered as one of the most politically stable countries in the region, Jordan has experienced major refugees' waves from Syria, resulting in an addition of about 20% to its population. The country addressed this emergency by linking refugee and development responses in one comprehensive national plan, including a new Water Strategy focusing on water protection zones, a water-efficient agricultural production, improved infrastructure along with enhanced governance and the Jordan Response Plan to the Syrian Crisis.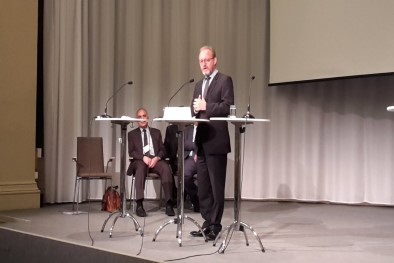 Mr. Ali Subah, Secretary General Assistant for Strategic Planning, at the Jordanian Ministry of Water and Irrigation, elaborated on the impact of the Syrian crisis on the water sector in Jordan, stressing particularly the effects this has had, along with prolonged drought periods, in the implementation of the Jordanian National Water Strategy. Ms. Nisreen Haddadin, from Kreditanstalt für Wiederaufbau (KfW) referred to the water supply and sanitation of camps and the communities, highlighting that "the water crisis is a trade-off between sustainability & demand", while Dr. Armin Margane from the Federal Institute for Geosciences and Natural Resources (BGR) highlighted the water resources management as a response to the refugee crisis.