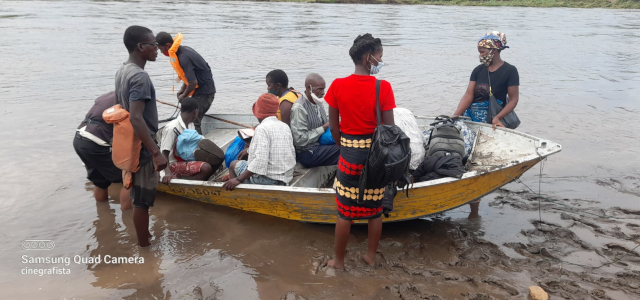 Communities along the Mituchira River, a tributary of the Pungwe in Mozambique. They were being transported by boat as the bridge they normally use for crossing had been flooded
More than 80 people have died and tens of thousands impacted. Madagascar, already experiencing ongoing famine due to recurrent droughts, was worst hit, with at least 41 deaths and more than 100, 000 people affected. In northern and central regions of Mozambique, Cyclone Ana destroyed over 10,000 homes, schools, and health facilities, while hundreds of thousands of people were displaced by the storm which destroyed houses and other infrastructure in towns and cities. Similar patterns have occurred in Zimbabwe and Zambia, with heavy rain battering and washing away property and crops.
Malawian President Lazarus Chakwera, current Chairperson of Southern Africa Development Community (SADC) declared a state of disaster in areas affected by the cyclone in Malawi, and engaged African leaders on the issue of Tropical Cyclone Ana.
Global Water Partnership Southern Africa (GWPSA) Executive Secretary Alex Simalabwi says there should be a sense of urgency for better preparedness, improved policy coordination and budget provisions towards integrated water management as well as climate resilience, to mitigate the harsh consequences of increasingly changing weather patterns on communities.
"The effect of climatic conditions on populations in Southern Africa is of concern to the Global Water Partnership, because of the huge cost in loss of infrastructure, lives and the slowing down of social and economic development. We work in collaboration with government and other stakeholders in the SADC region to ensure better policies, capacity development and funding of water and infrastructure projects," said Mr. Simalabwi.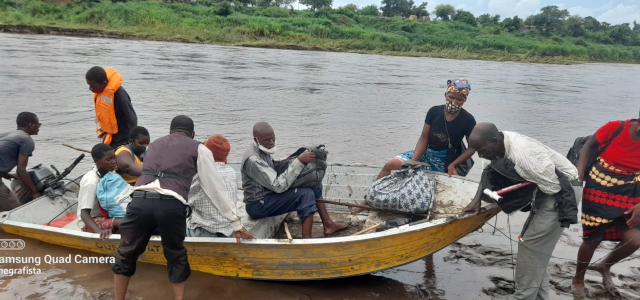 Investment in climate-resilient water infrastructure in Africa currently stands far below the levels necessary to ensure water security for the continent. The African Development Bank (AfDB) estimates that US$ 64 billion should be invested annually to meet the 2025 Africa vision of Water Security for All; but the actual figure invested stands between US$10 -US$19 billion per year. "This is why on 7 February 2021, during the 34th ordinary session of African Union Summit, the African Union Heads of State and Government adopted the Continental Africa Water Investment Programme (AIP) as part of Programme for Infrastructure Development in Africa. Led by AUDA-NEPAD with support from AMCOW, AfDB, GWP-Africa and partners, AIP aims to narrow the water investments gap of US$45-US$54 billion/year by mobilising US$30 billion/year by 2030", said Mr. Simalabwi.
GWPSA and the International Union for Conservation of Nature- IUCN with funding from the Global Environment Facility, are currently implementing the Buzi, Pungwe, Save (BUPUSA) Tri-Basin, which aims at increased cooperation between Mozambique and Zimbabwe as they share at least five river basins.
"We have been working with the two Governments to provide tools for strengthening monitoring and forecasting floods in three transboundary watercourses shared by Mozambique and Zimbabwe. The three basins have seen an increase in the frequency and magnitude of such extreme events. The expected impact of the interventions will be to reduce loss of lives and livelihoods," explained Mr Elisha Madamombe who is the BUPUSA project coordinator.
GWPSA will hold a high-level Water Investment Conference in Zanzibar on March 10-12, to be hosted by Dr. Hussein Mwinyi, President of Zanzibar, and former president Jakaya Kikwete of Tanzania, as well as other eminent leaders. Its primary focus will be to explore ways of galvanizing the private sector and other partners to unlock resources for national and international investment in effective water management. The effects of climate change will be at the core of this conference as evidenced by development in the region in recent months.
Photo credit : Administração Regional de Águas do Centro (ARA-Centro) Mozambique