The meeting gives GWP Partners an opportunity to engage directly with other Partners and with regional and global peers. Last year, participants contributed to the new GWP strategy that is being developed for 2020 and beyond. This year they will have an opportunity to consider how, as a global action network, GWP can implement the strategy.
'Follow the Sun' is a format that allows GWP to consult with Partners in each region over a 29-hour period. Particpants can join a 2-hour session in their region, and then their region hands over input to another region. The Network Meeting culminates in a summary and forward-looking global session at the end (recorded for those who cannot participate).
WHO: GWP Partners
DATE: 25 June 2019
DRAFT TIMING AND SEQUENCING OF THE REGIONAL SESSIONS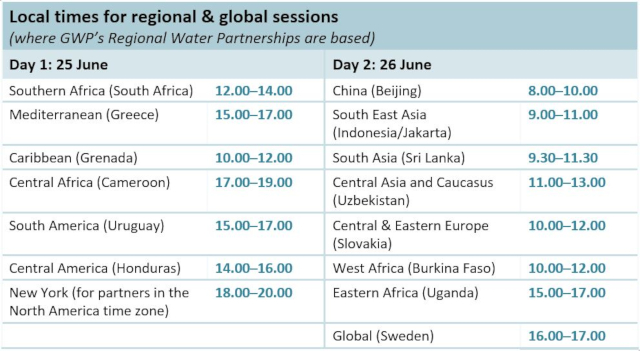 GUIDING QUESTIONS
Each regional session will discuss questions relevant to Partners in that particular region. All regions will be expected to report back on the following:
What are you doing to achieve the Sustainable Development Goals (SDGs), supporting transboundary water cooperation and mobilising the climate change resilience community to leverage the water agenda?
Addressing the water challenges in your country as a GWP Partner, which other organisations and groups would you like GWP to learn from, mobilise and engage with (and why)?
HOW TO CONNECT TO THE NETWORK MEETING
There will be different options to join the Network Meeting, either by face-to-face sessions in selected countries (contact GWPSA or your Country Water Partnership if you are interested), or by joining online. Check GWP's website www.gwp.org where the link to the livestream will be highlighted closer to the date.