Speaking during the opening of a three day workshop at Water NAP stakeholders meeting at the Hilton, in Nairobi Kenya the representative of the Principal Secretary of the Ministry of Water and Irrigation noted that the collaboration will also contribute to national and regional efforts of water security and climate resilient sustainable development.
GWPEA and the Ministry agreed to collaborate in developing and submitting a proposal to the Green Climate Fund (GCF) focusing on the fast track window of Readiness and Preparatory Support program that includes support for NAP processes. The process will be undertaken in partnership with other institutions such as the Climate Change Directorate.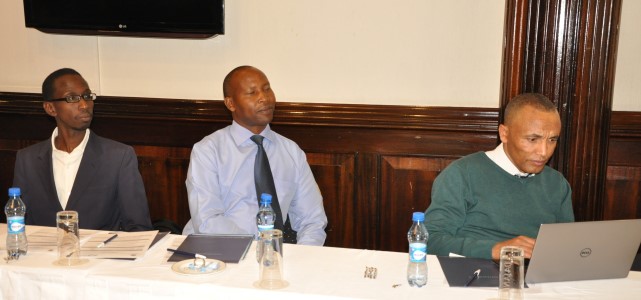 The consultation Workshop brought together key experts from the Ministry of Water and Irrigation; the Ministry of Environment and Natural Resources; the National Treasury and other relevant stakeholders.
The Ministry of Water and Irrigation is the Technical Line Ministry and the main focal point institution for GWP in Kenya. The Ministry of Environment and Natural Resources is the main coordinating agency on climate change issues in Kenya. It has a Climate Change Directorate which is in charge of coordinating climate change issues. The Directorate is the secretariat for the National High Level Climate Change Council. The National Treasury is the National Designated Authority (NDA) for Kenya for GCF.
The workshop helped all participants to understand the processes of accessing resources from GCF, particularly focusing on the Readiness Support Program.
GWP-SA's Technical Advisor, Eastern and Southern Africa Regions Kidanemariam Jembere made a presentation on the NAP process, accessing GCF resources under the Readiness Program, and GWP's support to countries under the WACDEP Program.