Speaking at the 2019 Annual GWPO Network meeting, GWPSA partners cited the need for strategic investments in the Water sector as a means of moving towards water security in the region. They added that the ability to quantify the contribution of water to the Gross Domestic Product (GDPs) of economies in the region is one key steps in moving towards a water-secure region.
GWP Southern Africa was the first of the 13 GWPO regions to join this year's Network Meeting on 25 June from 12:00 – 14:00 (South African time). The region connected to the meeting from 5 country sites, namely Botswana, Namibia, Tanzania, Zambia and the regional office in Pretoria. Partners who were not able to join the main meeting participated through comments on Facebook Live.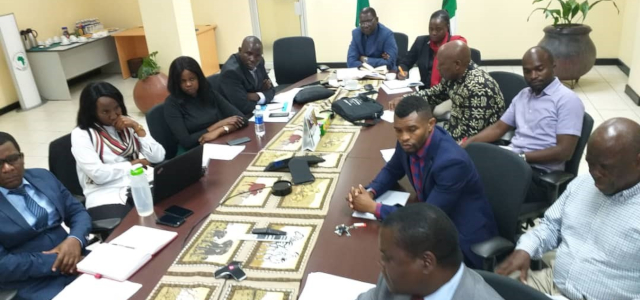 GWP Zambia Partners during the Network Meeting
The regional session was facilitated by the Executive secretary, Mr Alex Simalabwi who began by introducing the regional secretariat team and the CWPs as well as welcoming the partners.
GWPSA Partners reported back two guiding questions:
What are you doing to achieve the Sustainable Development Goals (SDGs), supporting transboundary water cooperation and mobilising the climate change resilience community to leverage the water agenda?
Addressing the water challenges in your country as a GWP Partner, which other organisations and groups would you like GWP to learn from, mobilise and engage with (and why)?
Below is a summary of the GWPSA partners' responses to the questions:
GWPSA partners and the CWPS have been actively involved in the development and review of several National water policies, reports and IWRM plans in their countries.
Countries indicated that they are working on feasibility studies for various water projects, capacity building, engaging in public-private partnerships on water resources management. Other projects were around the conversation of water resources including greywater harvesting, desalination of water and rainwater harvesting.
Notable in the countries work on SDGs was that their projects were not only centred on SDG 6 but also incorporated other SDGs such as education, climate change, partnerships and sustainable development among others. Also notable was the involvement of partner organisations in groundwater management initiatives in their countries.
From these discussions, the following main recommendations were made by the partners:
GWP and its partners need to focus on the education of their surrounding stakeholders, from as young as primary school levels. Responsible water usage and habits need to be instilled at an early age
For GWPs programmes to be effective, they need high-level political support for their successful implementation.
Mobilising investments for water-secure and climate-resilient programmes needs to be a top priority.
The private sector needs to be thoroughly engaged in initiatives for water resources management.
GWPs focus on SDGs need to go beyond just the water sector. To secure and mobilise water-proof funding, projects need to be well rounded.
Natural resource accounting has become an important natural resource management tool and the water sector could greatly benefit from it.
Wastewater is a resource that is not being successfully utilised. GWP should investigate programmes regarding the desalinisation of wastewater resources.
It is imperative to ensure the inclusion of vulnerable groups, like women and the youth, in water projects.
Development and investment in strategic bankable projects is key to progressing towards water security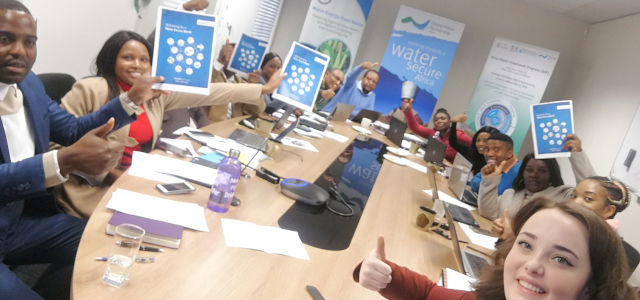 GWPSA Secretariat holding the GWP 2020-2025 Draft Strategy
Based on the successful participation of so many partners at last year's Network Meeting, GWPO organised the second online consultative meeting, in a 'Follow the Sun' format, a 29-hour-long, online meeting of back-to-back sessions with all GWP regions.
The goal of the Network Meeting was to adopt the strategic direction of the GWP network and get partners' report back on what they are doing towards the 3 anchors of the strategy which are SDGs, Transboundary cooperation and Climate resilience development. The network Meeting was also used as a platform for GWPO and its partners to discuss how to make the new GWP Strategy come alive and actionable.
The Network meeting was concluded with a global session, during which GWPO Executive Secretary Dr. Monika Weber-Fahr appreciated valuable work that partners are doing around the GWP s020-2022 strategy's 3 anchor areas, the youth, private sector and gender.
"We found overall endorsement and a validation of our new Strategy and its anchor areas, as well as around the mobilisation of bringing in more youth, mobilising organisations that bring in more gender-focused organisations, and organisations that address imbalances and attack exclusions, and thereby attack exclusions from water", said Dr. Monika Weber-Fahr.