SADC, in collaboration with Global Water Partnership Southern Africa (GWPSA) and with funding from the Federal Ministry for Economic Cooperation and Development (BMZ), through the German Development Agency, GIZ, has installed a total of 11 portable handwashing facilities, termed SADC WASH Boxes at Chirundu, Beitbridge, Nakonde/Tunduma and Songwe/Kasumulu Borders in Zambia, Zimbabwe, Malawi and United Republic of Tanzania.
The four are some of the busiest land borders in the Region with official figures for instance indicating that about 15,000 travellers cross Beitbridge Border Post daily. A notable challenge experienced at the borders during the COVID-19 pandemic has been the increased need for improved water and sanitation services, as well as hygiene awareness to communicate the benefits of good hygiene practices at borders across the Region.
"The large numbers in traffic at strategic border crossings has placed significant pressure for high standards of WASH services at these ports across the Region, a situation which has been exacerbated by the COVID-19 pandemic," said Ms. Mapolao Rosemary Mokoena, Director Infrastructure in SADC's Infrastructure and Services Directorate.
The WASH Boxes were officially launched and handed over to the Member States during a virtual event on 27th February 2022.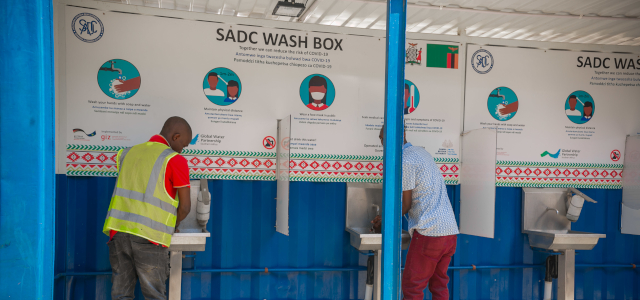 WASH Boxes in use at Chirundu Border Post in Zambia
Speaking during the launch, Senior Programme Officer at the SADC Water Division, Dr. Patrice Kabeya, said the SADC COVID-19 WASH Border Post Response Project has capacitated Member States to better function despite the limitations imposed by pandemics or outbreaks.
Mr. Alex Simalabwi, Executive Secretary of Global Water Partnership Southern Africa (GWPSA) which implemented the project on behalf of SADC, said the handwashing facilities will help facilitate growth of regional and continental trade.
"The creation of the African Continental Free Trade Area (AfCFTA) provides a unique opportunity to boost growth, cut poverty, and reduce Africa's dependence on the boom and-bust commodity cycle. The AfCFTA is likely to attract cross-border investment, increase population of cross border movements and yet, access to water and sanitation is one of the key barriers to intra-Africa trade," he said.
Mr. Marcel Grella, Head of the SADC-German Development and Economic Cooperation at the German Embassy in Gaborone, emphasised that access to clean water and sanitation remains key to reduce not only the spread of COVID-19, but to ensure a general high-standard of hygiene measures at places of high-volume passenger traffic.
He said the project is of a general hygienic and sanitation improvement nature, meaning that even without the virus or communicable diseases, it makes a lot of sense and has a direct impact on the well-being of travellers and employees at their respective border posts.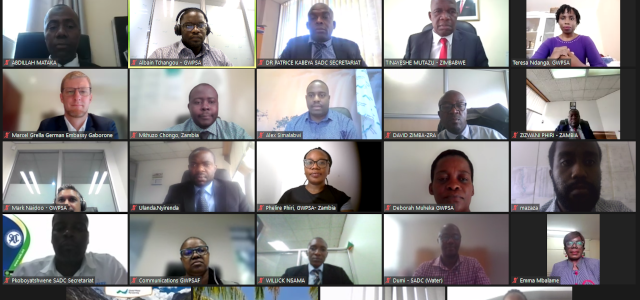 The virtual launch and official handover of the WASH Boxes was attended by all the benefiting SADC Member States as well as implementing partners
Zambia has benefitted through facilities that have been installed at Chirundu Border Post, where the country borders Zimbabwe; and Nakonde/Tunduma border post where it borders United Republic of Tanzania.
Engineer Zizwani Phiri, Director of Water Supply and Sanitation, Ministry of Water Development and Sanitation, Zambia said WASH remains a key development agenda as it plays a critical role in the social economic advancement of the country and the COVID-19 WASH Boxes project demonstrates SADC's commitment to improved human life while promoting production and trade for Member States.
SADC has installed similar facilities on the Zimbabwe side of the Beitbridge Border Post where it borders South Africa and Chirundu Border, where it borders Zambia.
Mr. Tinayeshe Mutazu, Chief Director: Water Resources, Irrigation Development and National WASH Coordination in the Ministry of Lands, Agriculture, Fisheries, Water and Rural Development, Zimbabwe said thousands of commuters cross Beitbridge Border Post every day which provides a vital link to the entire sub region, thereby enhancing regional cooperation and integration and in so doing assisting countries to overcome economic barriers in terms of the flow of goods, services, movement of people, and even finances.
The handwashing facilities are a sustainable solution to all communicable diseases such as cholera, which is currently one of the major health challenges in Malawi. The facilities have also been installed at Songwe Border Post, Malawi's side of the border with Tanzania.
"It is our hope that this is just the beginning, and that other WASH Boxes will be installed across all the other border crossings in Malawi, borrowing a leaf from what has begun here at Songwe border," Mrs. Emma Mbalame, Director of Water Supply, Ministry of Water and Sanitation, Malawi.
Tanzania joined Malawi in seeking continuity of the project, having had the handwashing facilities installed at Nakonde/Tunduma border where it borders Zambia and Songwe/Kasumulu Border where it borders Malawi.
"Now that we have the WASH Boxes, we need to embark on a sensitisation campaign on the good habit of handwashing. Development partners should also consider working with us to upscale the project to other areas not only the border posts. The handwashing facilities would also be useful at places where a lot of people converge such as bus terminals," said Eng. Abdillah Mataka from the Ministry of Water and Irrigation, Tanzania.
The overall operation and maintenance of the facilities will be done by the Zambia Revenue Authority (ZRA), Zimbabwe Revenue Authority (ZIMRA), Malawi Revenue Authority (MRA), and Tanzania Revenue Authority (TRA) on behalf of their governments.