We are proud to the present the winners of the World Water Day 2021 Youth Photo Contest below.
First prize: Georgina Mukwirimba, Zimbabwe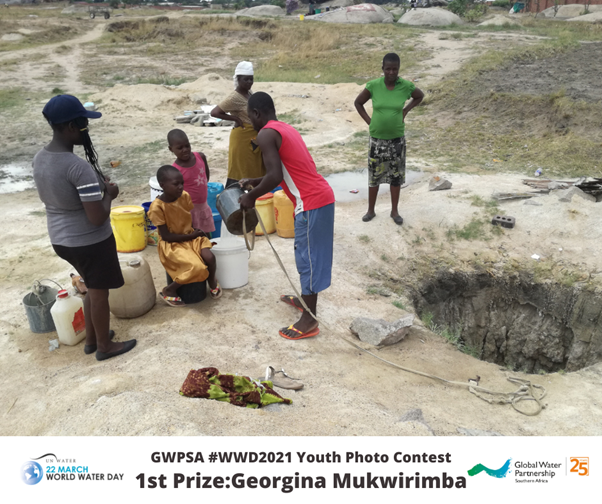 The photos tell a story of how water plays a pivotal and vital role for the survival of a community. It illustrates the value of water by showing the extent to which anyone would go to fetch water for their domestic needs when there is no reliable water supply or hardly any tap water supply. Groundwater becomes seriously depleted after a drought and being a major supplement of surface water, this leads to residents in my community desperately fetching water in unprotected sources and sometimes having to travel long distances to scramble for little water resources.
Conducting a baseline assessment to assess the IWRM in the urban water cycle is an important first step to identify water management priorities. Secondly dialogues which involve all relevant water stakeholders to discuss issues of water security in the community to come up with solutions and resolve any conflicts. Educating and empowering the community on the value of water because often water is taken for granted by residents, so they waste and pollute it. It is also essential to put sound policies in place to protect water resources. The government should also consider investing in the water infrastructure for improved water security for residents.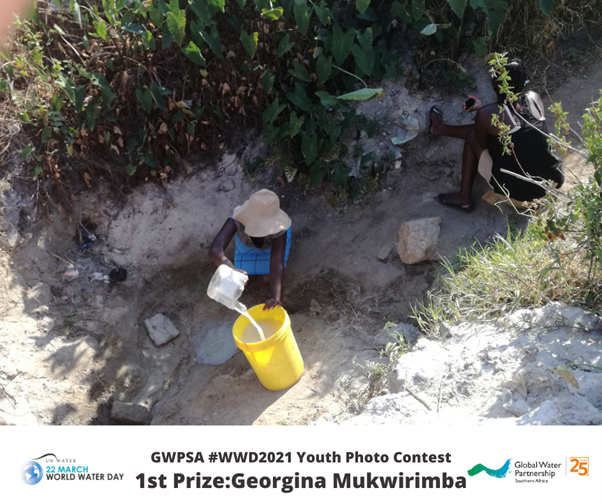 Second prize: Cornie Coetzee, South Africa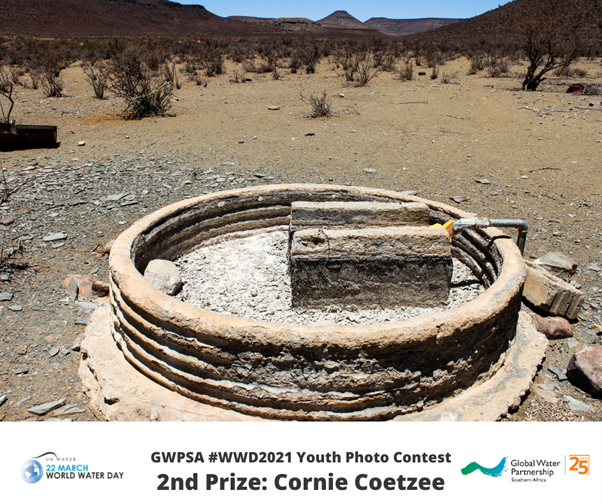 ---
In our community water means life! The life of our animals, our families, and our friends. Water means hope, that our prayers have been answered and that our families will be okay. It means more pasture, more food on everybody's tables and less farmer suicides. It means that the kids' tuition can be paid, and the bakkie's petrol tank can be refilled. It means a sigh of relief after 7 years of stress and worrying. It means saving our small Karoo towns from shutting down and saving our community's livelihoods. Therefor we must do everything in our power to use the little water we have left sparingly and to adequately capture and preserve what is on its way. We need to launch initiatives to build the necessary water storage- and extraction infrastructure and create much greater awareness among our citizens. We as individuals, private organizations and the government must take hands and start implementing the policies and initiatives that is already in place and improve on those who was not as successful. "Education is the most powerful weapon which you can use to change the world" and therefor it is important to educate the people on the value of water and the ways in which we can save it. We must create hope and life in a struggling community by valuing and saving water.

Read the contest's terms and conditions here.