Global Water Partnership, together with Cap-Net UNDP, IWMI, Waterpreneurs, the University of Gold Coast Florida and the University of Ljubljana facilitated a short training in Harare, Zimbabwe from the 17 – 20 July 2018. The main objective of the training was to sensitize the relevant staff of the Government of Zimbabwe and of the Marondera Municipality on the principles of Integrated Urban Water Management (IUWM), within the context of Zimbabwe and Marondera, including aspects of management of the sludge, the design of nature-based wastewater systems and the setting up of systems innovative business models
The training was done through a team that is on site and also with the participation of international experts for specific topics via skype. Subsequent to this training, the project will also develop e-learning modules in collaboration with the Cap-Net Program of the United Nations Development Program which will be made available during the 4th quarter of 2018.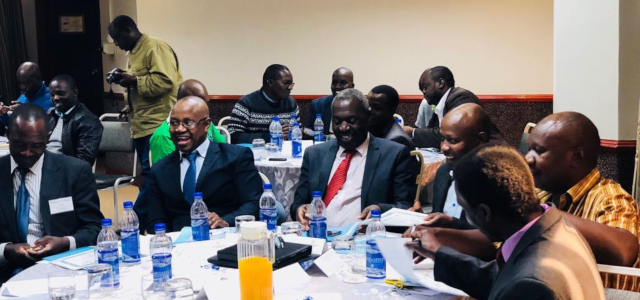 At the African Water Facility (AWF) Governing Council meeting held in Harare, Zimbabwe in November 2013, the Government of Zimbabwe expressed its interest to be included in the roll out of the "Cities of the Future" Program, which encompasses "Integrated Urban Water Management (IUWM) principles which the AWF is pursuing with selected countries and partners. The government further expressed its interest through an official request.
The Municipality of Marondera with a population of 65,000 inhabitants was selected by the Government of Zimbabwe to receive support to develop an integrated water and wastewater Master Plan that will in part present detailed prioritized investments. The overall project goal is to provide the Municipality of Marondera with an innovative integrated planning approach that will ensure the sustainable management of water and sanitation for Marondera's population.
The project will address the immediate water and sanitation infrastructure needs, the development of an Integrated Urban Water Management (IUWM) Master Plan for the Municipality and enhance the capacity of the Government of Zimbabwe and key stakeholders to implement sustainable water and sanitation facilities.
The IUWM approach contributes to improved water security through the adoption of a holistic approach. This involves designing water management as a system within a catchment, taking into account the entire water cycle in general, and in particular, that wastewater and fecal sludge are resources. The proposed IUWM approach is based on effective participation of key sector partners from the public, private and social sectors, and with each having an interest in good water governance.