The WIF brought together the stakeholders involved in irrigation from multi-disciplines at all scales, including the policy makers, experts, research institutions, non-governmental organizations and farmers. The side event 7 on Powerful Alliance: MSP contributions on food and water security processes in Asia focused on the role and importance of MSPs to ensure food and water security. During this session, three water and agricultural experts from three countries in Asia, Bangladesh, China and Indonesia have shared case studies from the respective countries. It demonstrated the significant role of MSPs acting in collaboration with the Governments to create powerful alliances towards the realization of food and water security in the region.
Dr Haq, Chair, GWP South Asia was one out of the three presenters, have presented the case on Bangladesh "Private Sector: The Most Important Stakeholder in Ensuring Water and Food Security in Bangladesh".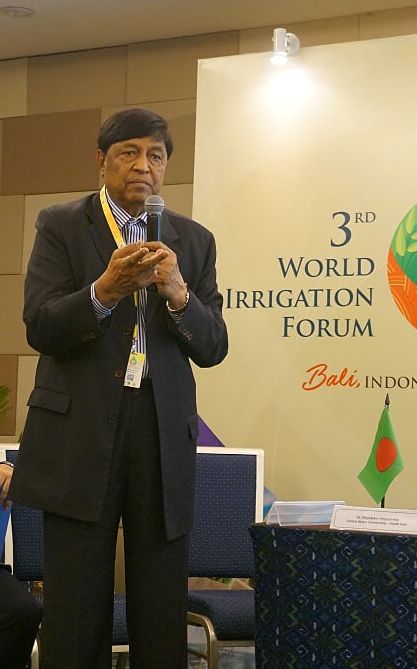 He opened-up the discussion stating, Bangladesh agricultural revolution was delayed for ages because of not including prudent stakeholder groups. The country had a cereal deficit of up to 5 million tons per year in mid-sixties and early seventies, whereas today Bangladesh has become a rice exporting country. The first section of his presentation was dedicated to the factors contributing to this success.
Dr Haq briefed about the agriculture related statistics of Bangladesh. Bangladesh is a very small country having a land area of about 145,000 square km. It has a population of around 160 million with a very high population density of about 1,100 persons per square km. The cultivable land area of the country is 8.44 million ha while 63 percent of land in the country, (one of the highest in the world) is under cultivation. The cropping intensity is 200 percent where the farmers mostly cultivate two crops of paddy that increased the total cereal production upto 33 million metric tons per year (Bangladesh Bureau of Statistics, 2017), whereas the total cereal requirement of the country is 32 million metric tons. He further stated that for the last 20 years, the population of Bangladesh grew at an average rate of 1.5 percent while the food production increased at the rate of 2.5 percent.
According to Dr Haq, the 'Magic' for impressive increase in cereal production is the involvement of Private Sector providing irrigation water to the farmers. Bangladesh government transferred the pump based irrigation systems (popularly known as Minor irrigation) with command areas ranging from 2 to 60 ha of paddy. Bangladesh is probably the only country in the world where nearly 80 percent of irrigation has been privatised where the private water vendors sell irrigation water to the farmers at full cost (Capex+Opex). There are more than 1.5 million entrepreneurs in the business of selling water, which has also created a muti-dimentional water market over the years where farmers get three options to access irrigation water;
buy water from the vendor directly
rent equipment for a fixed period and use their own fuel
share a pre-agreed percentage of the crop grown using the method known as "crop sharing" where the farmers have to give a certain percentage of crop (usually 30 percent) to the vendors that supply water.
Later a group of mechanics came into the scene, as these equipment needs to be kept operational. These technicians also followed the crop sharing formula and their share was agreed at 2 percent of the crop produced, mostly cereals, who ensured uninterrupted supply of water throughout the crop growing season which is about about 90 days. There was very little cash involvement in the system, because majority of the farmers are small or marginal farmers who are not comfortable with cash transactions. Also, these cash short farmers have to borrow money from the local money lenders at a very high interest rate.
The ground water based small (mostly 2-5 ha command area) irrigation systems with diesel engine (5-10 horsepower) prime movers opened up new economic activities for their owners. They include the following:
(i) As the engines are used for priming the pumps for 3 – 4 months (February-May) in a year, multiple use of the engines has become quite popular. They include improvised rural transportation for both hauling human as well as goods.
(ii) Using as power source for power tillers; threshing and milling paddy; powering boats etc.
(iii) Encouraged establishment of small and medium industries for manufacturing pumps, engines, motors, pipes, well screens and other accessories;
Future potential use of these diesel engines include powering rice transplanters and reapers.
In spite of the spectacular success in crop production, Bangladesh still faces significant challenges in maintaining current rate of growth in agriculture. Very little potential for 'horizontal growth' necessitates to provide more emphasis on 'vertical growth' such as increasing yield of cereals both per unit area and per unit volume of water. The current average rice yield in Bangladesh is around 3 metric tons per ha which is 50 percent of the yield obtained by Chinese and Korean farmers. There are also serious threats imposed by the agro-chemicals that contaminate ground water. Accelerated depletion of groundwater is also emerging as a serious challenge.
Later, Dr Haq spoke about the GWP's role as a catalyst in MSPs. GWP is capable of offering a platform for the MSPs by gathering the relevant stakeholders working on water security to achieve Sustainable Development Goals (SDGs) on water. Concluding his presentation Dr Haq stated that "let us move towards a private sector lead MSP to achieve sustainable water solutions in order to ensure food security and to improve the quality of life of population". He also recommended piloting this model in other countries.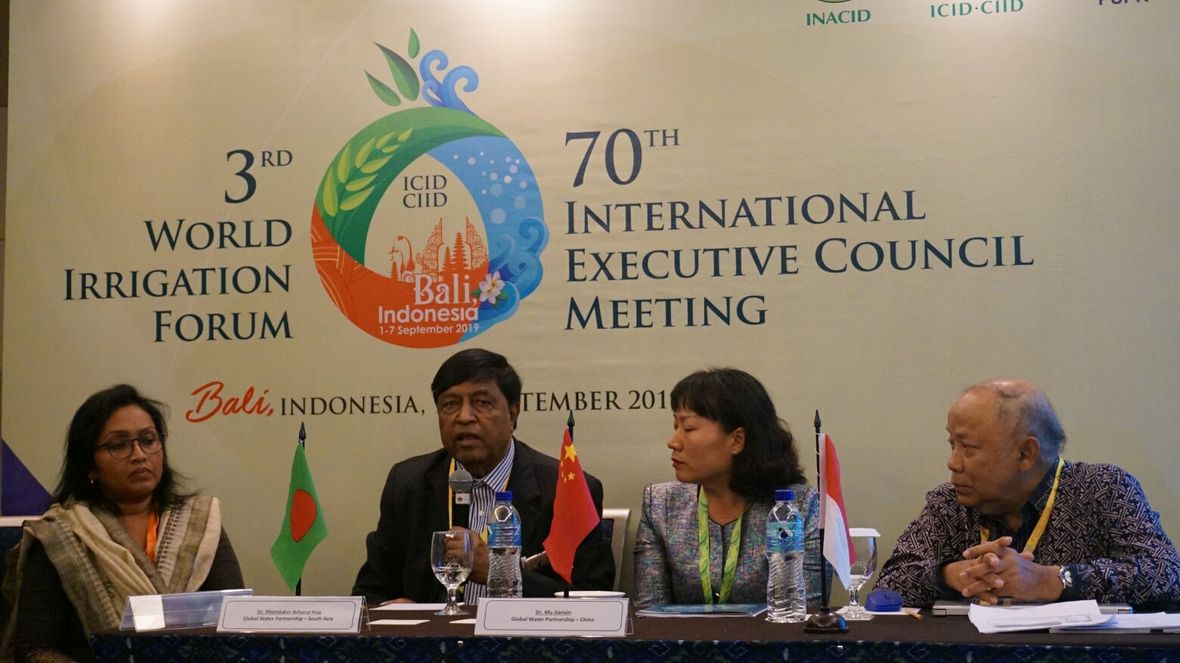 --------------------------
The other two presenters were, Dr Jianxin MU, Global Water Partnership China TEC Member from China Institute of Water Resources and Hydropower Research (IWHR) and Dr Sutardi from Global Water Partnership Indonesia.