The workshops will take place between May and June in the following countries:
Antigua and Barbuda (May 22nd – 24th, 2019)
St. Vincent and The Grenadines (May 29th – 31st, 2019)
St. Kitts and Nevis (June 5th – 7th, 2019)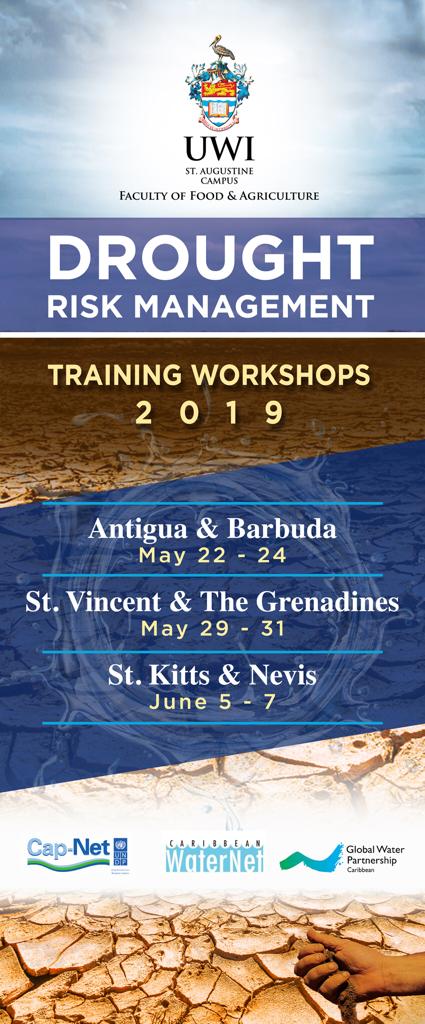 The first workshop kicks off tomorrow (May 22nd) in Antigua and like the other two workshops to follow, it will target specific agencies in the country, that are directly involved in water resource management.
The objective of the training is to support the ongoing water management process which will lead to improvement in the understanding of Drought Risk Management and Reduction in the country. Additionally, the 3-day training workshop is intended to increase participants' understanding of droughts and the associated risks, as well as inform management and mitigation plans and policies.
The most important immediate action concerns the way we manage our water resources. Improving our management of water today, will prepare us to adapt tomorrow. Improved understanding of our water resources will allow more efficient and flexible allocation systems and better investment in infrastructure, both to improve access to water and reduce risks from climate change. We can act now – and the training is designed to help in identifying these actions.
Follow @GWPCaribbean on Facebook and Twitter to catch live updates at each of the Drought Management workshops in Antigua (May 22nd – 24th), St. Vincent (May 29th – 31st) and St. Kitts (June 5th – 7th).