The Conference, which ran from November 12th – 16th, 2018 featured presentations from a range of national, regional and international specialists on themes such as:
Food and Nutrition Security
Climate Change, Nutritional Security and Associated Health Impacts
Strategies to Achieve Food and Nutrition Security
Principles, Policies and Strategies for Building Climate Smart Agriculture
Practices in Agroecology to Mitigate Climate Change Impacts
Agroecology for Food Security
Innovative Tools and Techniques
Integrated Management of Plant, Animal and Environmental Health for Food Security
Integrated Management of Animal Health for Food Security
Integrated Management of Plant and Environmental Health for Food Security
Ms. Simone Lewis, Regional Coordinator of the Global Water Partnership-Caribbean (GWP-C) presented under the theme "Climate Smart Agriculture." Ms. Lewis previously held the position of National Coordinator of the Global Environment Facility Small Grants Programme (GEF SGP) of Grenada. Her presentation therefore focused on the GEF SGP experience in funding climate-smart agriculture projects in Grenada.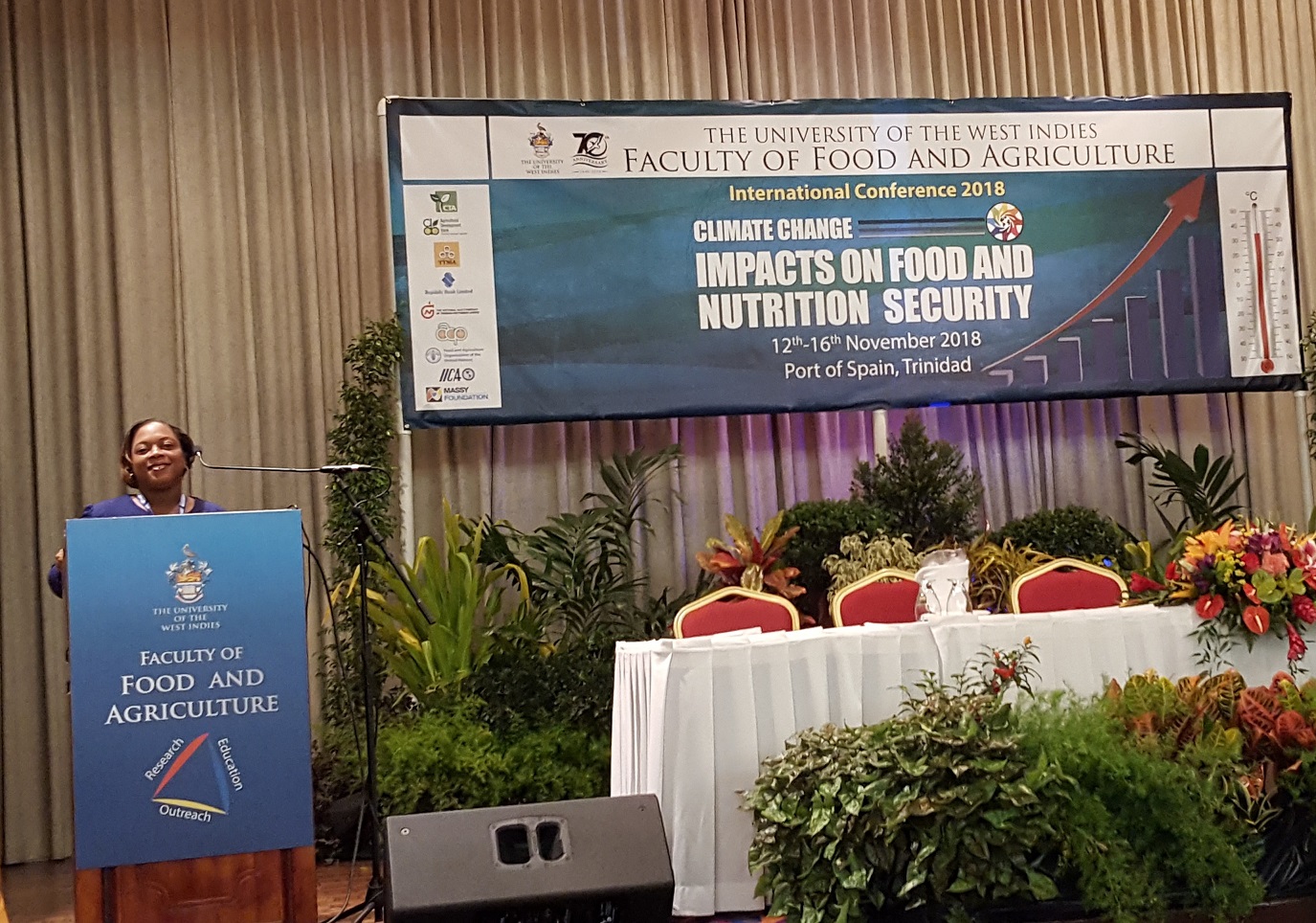 Ms. Simone Lewis, GWP-C's Regional Coordinator is seen here delivering her presentation at the International Conference.
She explained that between July 2014 to October 2018, the GEF SGP funded a total of 36 projects in Grenada and 36% of these projects focused on climate change. She further pointed out that these projects looked closely at areas such as:
Climate smart future
Use of renewable energy for drying of cocoa beans and spices
Aquaponics using renewable energy
Incorporation of renewable energy to power irrigation systems for agricultural purposes
Utilisation of energy from waste for persons living with disabilities
Harnessing of hydro-power for use by the communities
Of significance in Ms. Lewis' presentation, was the fact that she highlighted that a review of the 36 projects funded under the programme indicated that 70% of the youth population in the respective communities were either beneficiaries and or implementers of the respective projects. Furthermore, the projects implemented built their capacities to address issues related to climate change. During her presentation, Ms. Lewis also highlighted that some of the projects funded, demonstrated the link between food security and water with agriculture being the biggest user of water in the world, and the need to explore new adaptive forms of water management in agriculture (such as irrigated and rainfed agriculture, aquaculture and more).
One of the main questions from the audience following Ms. Lewis' presentation, was "What is regarded as a sustainable project" in the funding context. She explained that by sustainable, the project should be continued even after the funding provided has expired, while contributing to livelihood opportunities and project growth.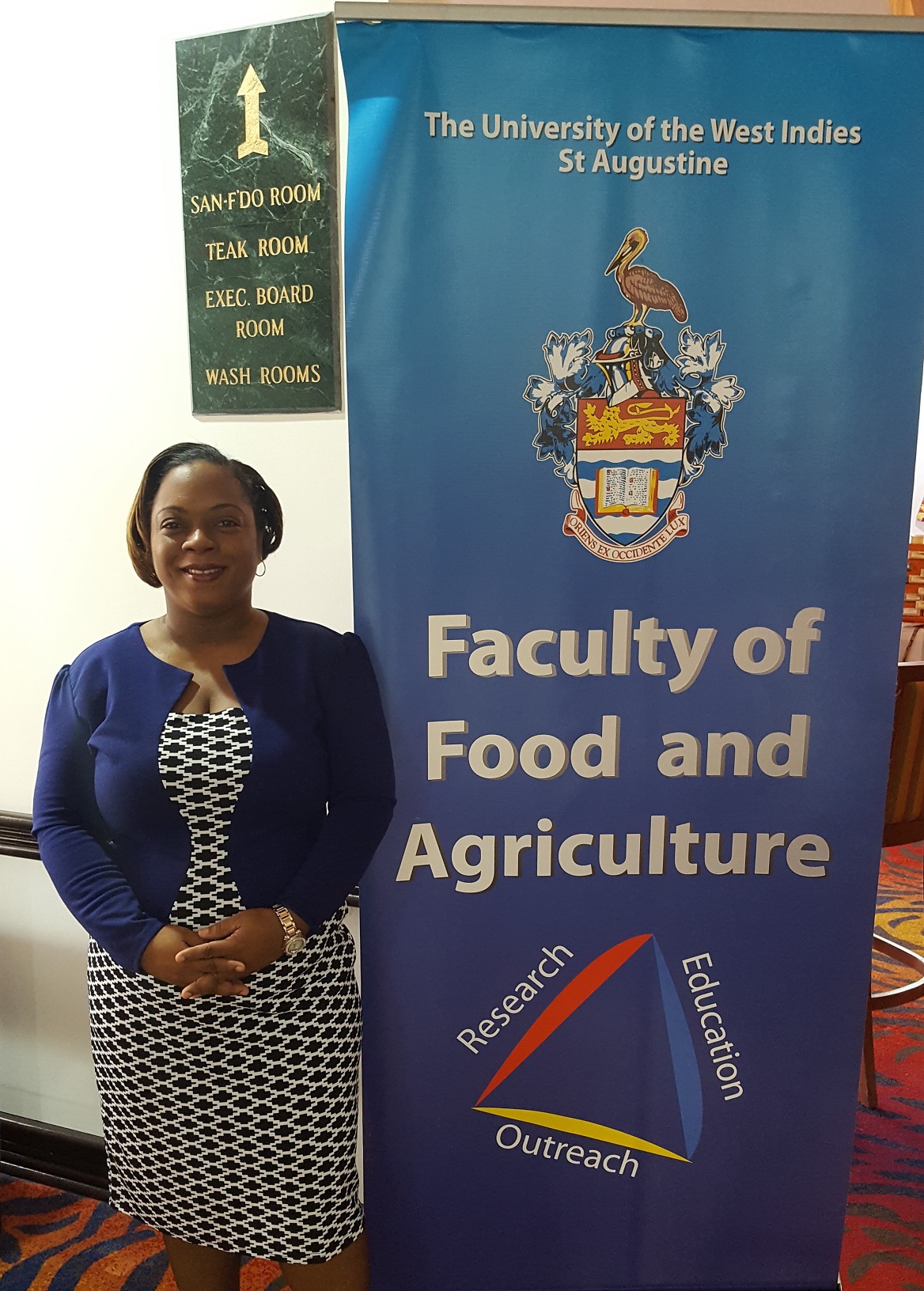 Ms. Simone Lewis, GWP-C's Regional Coordinator is seen at the "Climate Change Impacts on Food and Nutrition Security" International Conference in Port-of-Spain, Trinidad.
The International Conference hopes to synthesise the valuable experiences and knowledge shared throughout the week, so that it can be further disseminated for the benefit of the Caribbean region.
Other Agencies associated with the Conference:
Technical Centre for Agricultural and Rural Cooperation ACP-EU (CTA)
Agricultural Development Bank (ADB) {Trinidad}
Trinidad and Tobago Manufacturers' Association (TTMA)
Republic Bank Limited {Trinidad}
The National Gas Company of Trinidad and Tobago Limited
Food and Agriculture Organisation (FAO) of the United Nations
Inter-American Institute for Cooperation on Agriculture
African Caribbean and Pacific Group of States (ACP)
Massy Foundation {Trinidad}
Nutrien
Radisson Hotel and Resorts