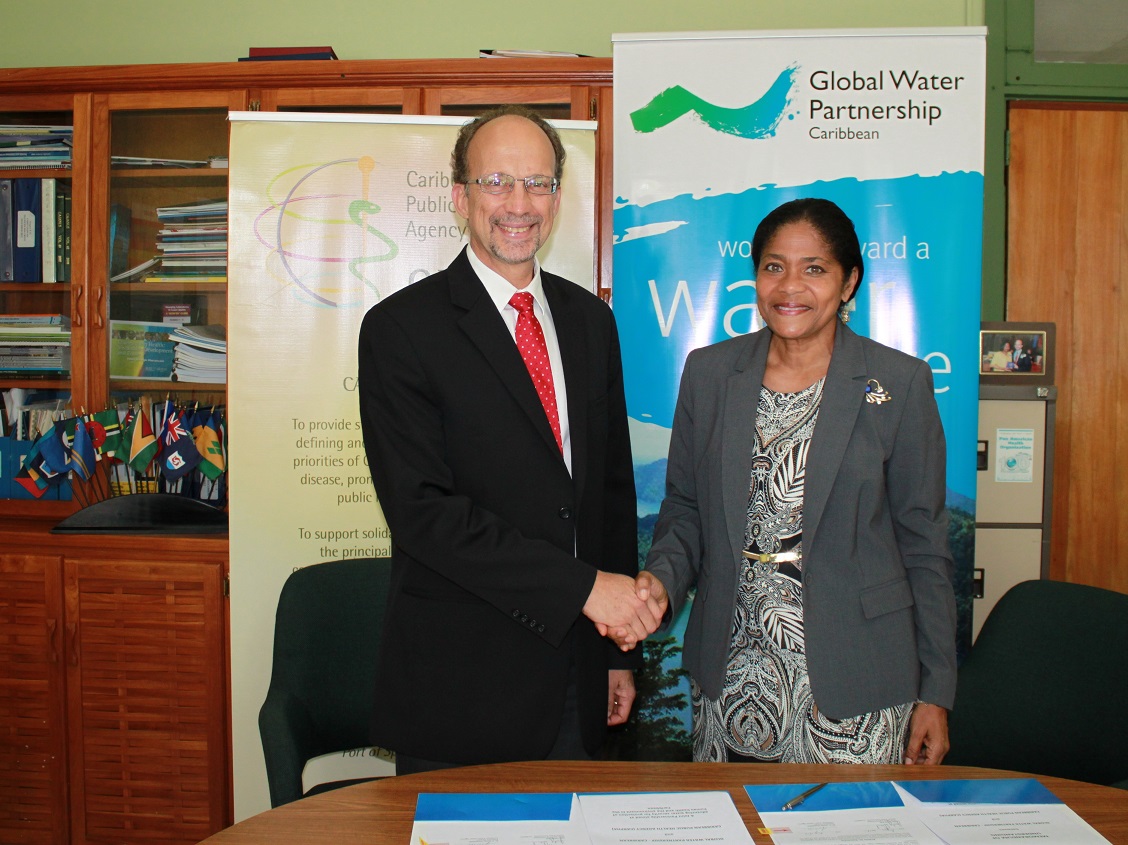 Dr C. James Hospedales, Executive Director of CARPHA and Ms. Judy Daniel, Chair of the GWP-C
The MOU signed between the organisations, represents a practical and meaningful relationship aimed at ensuring that Caribbean people have access to an adequate and sustainable supply of potable water for consumption, to satisfy hygiene and sanitation, while maintaining availability for sustenance of ecosystem functionality.
"Water quality impacts human health; these two areas are intrinsically bound," pointed out Dr. C. James Hospedales, Executive Director, CARPHA. He added that "Water is a valuable resource for Caribbean citizens. It is therefore critical to provide water suitable for consumption and avoid unnecessary health risks. This agreement supports our joint efforts to promote water security, and to ensure a sustainable environment and preserve water resources in the Region."
Chair, GWP-C, Ms. Judy Daniel explained "The connection between water and health would fit seamlessly into the goal of effective water resources management for the Region. A key element of the MOU is to promote Integrated Water Resources Management (IWRM) among Member States to advance sustainability of the water resource."
According to the MOU, CARPHA and GWP-C will develop regional and national water resources policies, laws and other legal tools to advance human health, and conduct research and training programmes on water resources management and human health. Both parties agreed to pursue the acquisition of resources and development of partnerships for IWRM initiatives in the Caribbean, and collaborate on adaptation to climate change for regional water security and health.
Central to the agreement is the engagement of other Caribbean agencies and further strengthening of partnerships, in executing innovative projects and activities.
Note to Editor
CARPHA is the single regional public health agency for the Caribbean. The Agency is committed to providing strategic direction in analysing, defining and responding to public health priorities of the Caribbean, in order to prevent disease, promote health and respond to public health threats and emergencies.
GWP-C, is one of 13 Regional Water Partnerships of the Global Water Partnership (GWP), a worldwide network of partners all working to achieve sustainable water management. It is committed to supporting Caribbean countries in the sustainable management of their water resources by fully promoting and applying Integrated Water Resources Management (IWRM) in the Caribbean.