WACDEP emphasises investment planning and financing for climate resilience. Thus during 2015- 2016, the programme has focused on the development of the Caribbean Climate Resilience and Water Security Investment Plan (CReWSIP), which provides a coordinated and programmatic approach to identifying, prioritising and sourcing finance for actions to enhance the climate resilience of the Caribbean through improved water resources management.
The CReWSIP framework, is currently being finalised and Phase 2 of the initiative is already underway, namely the fast tracking of CReWSIP projects for financing and demonstrating the benefits of "climate proofing." CReWSIP Phase 1 and 2 is funded by the Climate and Development Knowledge Network (CDKN) and executed in partnership with the Caribbean Community Climate Change Centre (CCCCC).
The first project under Phase 2 is the 'Climate proofing the Sandy Bay water services improvement project, St. Vincent.' Sandy Bay Village is a Garifuna community of 2600 people in the NE part of St. Vincent. Challenges in the management of this water supply include high turbidity due to heavy rainfall events and damage to pipes during flood events. This CReWSIP project assists the Central Water and Sewerage Authority (CWSA) in delivering safe and sustainable water supply services to the community.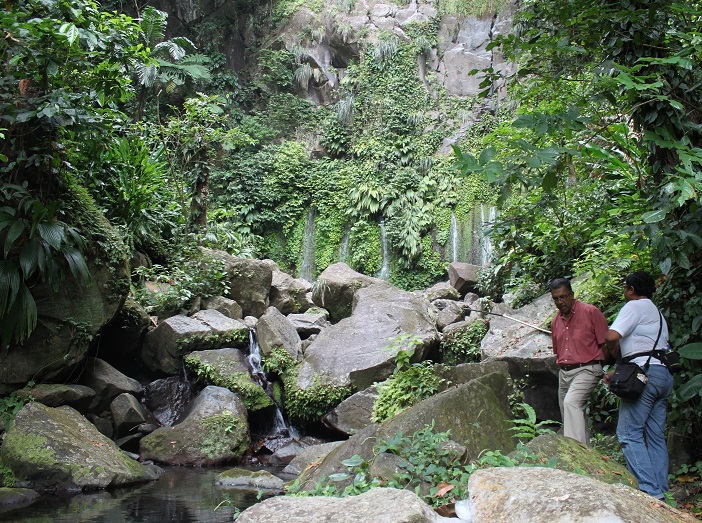 CWSA Engineering Manager, Mr. Brian Da Silva is seen here with GWP-C WACDEP Manager, Dr. Natalie Boodram at the Sandy Bay intake.
In particular, the project will deliver a Project Appraisal Document to help CWSA access funding for the climate proofed water service improvement project. The initiative will also provide technical assistance and capacity development for climate risk assessment and adaptation, as well as, economic appraisal approaches for climate resilience.
Lessons and outputs from the project will be translated into capacity development materials for regional dissemination. Apart from GWP-C and CCCCC, CAWASA is also a partner in this initiative.
During the week of April 25th – 29th, 2016, GWP-C staff, CDKN representatives and project consultants, worked alongside CWSA staff to conduct site visits, preliminary stakeholder consultations and the first trench of water and climate, and climate financing training under this project.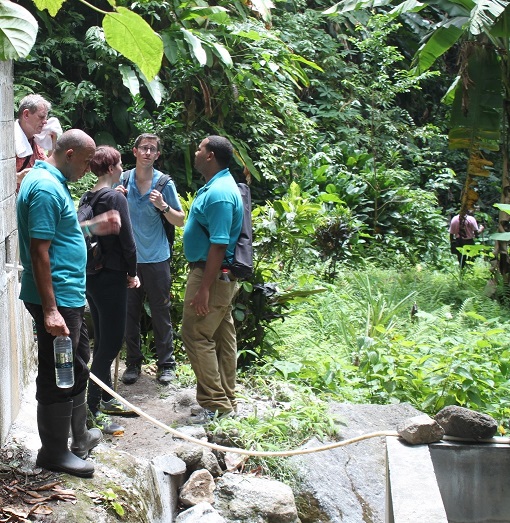 CWSA Engineers Mr. Marco Audain and Mr. Danroy Ballentyne (in blue CWSA polos) are seen here in dicussions with project consultants at the intake.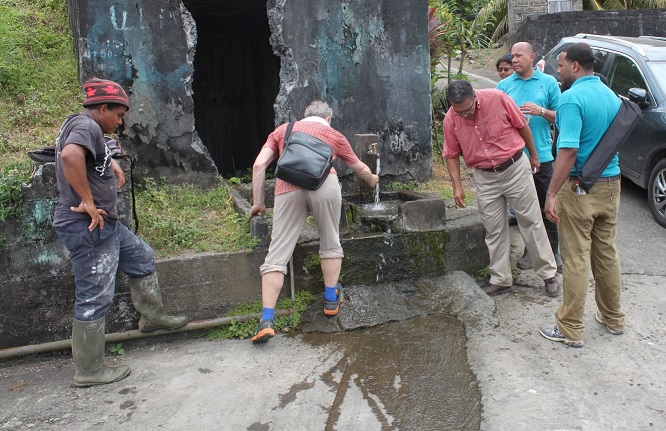 One of the standpipes in the Sandy Bay community.
A one-day Climate Risk workshop was held during the week to examine climate risks to the Sandy Bay system and possible adaptation measures. Workshop participants included CWSA personnel and staff from various government agencies. Representatives from GWP-C's Partners, namely the Forestry Division and the Ministry of Health, Wellness and the Environment were also in attendance.
A cross-section of participants at the Sand Bay Climate Risk Assessment Workshop.